Managers must bite bullet and give youth a chance, says Jeff Stelling
Southampton - and the Capital One Cup - show all is not gloomy for English football, says Jeff Stelling.
Last Updated: 27/09/13 9:02am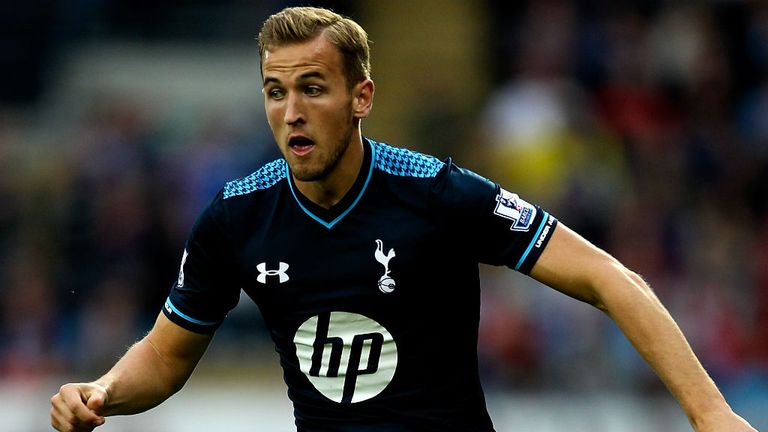 We often criticise teams for failing to give enough British players sufficient opportunity but there were one or two hints in this week's line-ups to suggest that the future might be brighter than we think.
Take Arsenal, for example. Ok - Thomas Eisfeld and Serge Gnabry, who are both young Germans, started against West Brom and they did have the young Spaniard Hector Bellerin on the bench, but they also started with the young Englishman Isaac Hayden while Chuba Akpom was among the subs.
Elsewhere Harry Kane started for Spurs against Aston Villa, as did Zeki Fryers, and even Chelsea had a couple of young English players on the bench in Jamal Blackman and Lewis Baker.
What needs to happen now, of course, is managers need to bite the bullet and do exactly the same thing in Premier League games - even if it's just bringing on a young English player 15 minutes from the end when your side is in a comfortable position.
Give them that chance to impress in the first team; the Capital One Cup may be derided in some quarters but it's a competition that does offer young English players that opportunity.
Beacon
The prime example of this, by the way, is Southampton who really are a beacon as far as the British game is concerned.
Yes, they've signed some big-name foreign players, but in this week's Capital One Cup game against Bristol City every single outfield substitute was British - and that was even with giving Rickie Lambert, Luke Shaw and Nathaniel Clyne the night off!
It's a club with a huge British backbone - and I'm sure Roy Hodgson wished that every club was like them!
I've a lot of respect for Southampton and their fans, who were understandably upset when Nigel Adkins went last season but didn't protest at the next home league game, against Everton, because they wanted to give Mauricio Pochettino a chance.
Pochettino carried himself with a lot of dignity at that time and it has worked out well for Saints, while things aren't so bad for Adkins now, either! Southampton do things slightly differently but they are making huge strides; we saw as much at Liverpool last week, when a lot was made of the fact that they press so high up.
I don't think that they've been at their best so far this season, despite the fact that they are up there, until last week when they were absolutely terrific.
They've got a decent sized squad now and my only concern for them is that as good an addition is Pablo Osvaldo appears, his arrival has changed Lambert's role slightly and maybe he's not quite so comfortable with it.
But we'll see how that pans out - for now they are doing great.
Mess
Sunderland sit 13 places beneath Southampton at the foot of the table and I have to admit I'll feel a little bit sorry for whoever joins the club as Paolo di Canio's successor because the club is in a mess.
Of late the club has resembled a man who has lost a winning lottery ticket but can't find it because he's standing on it.
There was a survey a couple of seasons ago that showed that County Durham had produced more Premier League footballers per 100,000 of the population than any other region.
If you expand that and look at the North-East region as a whole beyond even my time, back to the days of Jackie Milburn, through to the Charltons and onto Robson, Pallister, Bruce, Waddle, Shearer - some of the great players in the British game have come from that part of the country.
Now compare that to the number of younger kids who have come through into the Sunderland side, which resembles a hot-potch of nationalities. The club will say they do have young English players in the squad, but how many of them get any sort of chance in the first team?
The North-East has always been an area that has produced passionate, aggressive footballers who have a fantastic work ethic partly - without overplaying the 'grim up North' card - because the alternative life for some people was to go and work in the pits, the dockyards or on the trawlers.
That was a big incentive then but I genuinely believe that people there still have the same work ethic; I can't believe that Sunderland's scouts aren't casting their eye over every promising young player in that region.
I hope they have the view that Brendan Rodgers expressed last week that this country casts so many young players into the footballing dustbin at the age of 12 because at that stage they are not fast enough or strong enough.
Now I'm not a professional but I can see players who have got potential at 12, 13, 14 who could go on and make a footballer at any level - and I'm sure that's the case in the North-East. There must be plenty out there!
If anyone needs any inspiration for what home-grown talent can achieve, then they should look no further than the success Durham CC have enjoyed in recent years - winning the County Championship three times in six seasons with a nucleus of players developed by their academy.
If there are that many good cricketers out there, I'm sure there are an equal number of good footballers if not more...
Jeff's Gem of the Week
Southampton's performance at Liverpool was fantastic - but so was Newport's 2-0 win at Exeter, who before Saturday had a 100 per cent home record! Newport have settled into League Two life pretty seamlessly. Justin Edinburgh has had a chequered managerial career - he's certainly not had it easy - but the way Newport are going at the moment, it wouldn't surprise me if they are not challenging for a play-off place come the end of the season. That would be a fairy story come true. Their success is great for Welsh football, which is enjoying something of a resurgence through the exploits of Swansea and Cardiff.