Jeff Stelling: Don't let clubs sell ground names and lose the history
Jeff Stelling wants sponsors stopped from changing ground names and swearing sorted.
Last Updated: 21/11/13 4:59pm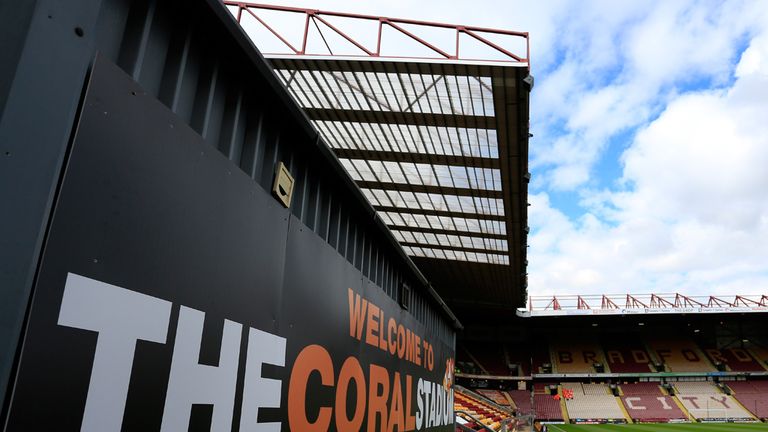 In some ways, they demand as much respect as a real cathedral because people go and worship there every week.
The reason I mention this is because during Soccer Saturday last week, somebody - I won't say a football fan, because clearly they weren't - Tweeted me to say: 'Please stop calling Mansfield's ground Field Mill, because we play at the One Call Stadium.'
Now, it's long been a bugbear of mine that sponsors are allowed to replace the historic name of a ground with their own name however transient their sponsorship is and there are plenty of examples over the years.
Adams Park, home of Wycombe, was changed to the Causeway Stadium with sponsorship and I had several words with the club about it because I refused to call it the Causeway Stadium.
Adams Park was named after Frank Adams, who was a benefactor and former captain of the club, and I felt it was morally wrong to replace that with a name like the Causeway.
And I feel the same about Mansfield; their stadium has been Field Mill since 1919 and the question I asked on Soccer Saturday last week was: 'Have you moved ground?'
If you've moved grounds you can call it what you want, but your history and heritage doesn't belong to the sponsors, it belongs to the fans, in the same way that St James' Park will always be St James' Park to me no matter what Mike Ashley and friends might want to call it.
It happens all the time now and it drives me insane.
Trend
I look at things like Derby County's stadium Pride Park which has just changed its name to the iPro Stadium after a soft drink manufacturer
I understand the reasoning behind it to a level - Derby are getting £7million from that deal - but they're selling the soul of the club for £7million and I promise you I will never call it the iPro Stadium.
It's another trend in football and we've had them all, including KitKat Crescent at York, which didn't last too long.
Dumbarton Football Club used to contact me and say 'please stop calling our ground The Rock' - which is what all their supporters know it as - as they said it was The Strathclyde Homes Stadium
I refused to call it that and now, it's not even The Strathclyde Homes Stadium, it's The Bet Butler Stadium; it just goes on and on and on and I just think there is something immoral about the sale of naming rights of stadiums that have historical backgrounds.
If you're clever and you've got a new stadium, that's a completely different matter - The Emirates for instance.
Some haven't been quite so clever when they've moved into a new stadium like Southampton for instance, who tried to call it 'The Friends Provident St Mary's' and unsurprisingly the sponsors got miffed because it was only ever referred to as St Mary's.
I would be in a moral dilemma if Hartlepool's ground was suddenly sponsored, because we need the money. Let's say our owners, who are called IRO, suddenly wanted to call Victoria Park the IRO Stadium, what would I do?
I think I'd treat it the same way as every other club sponsors name and try and avoid mentioning it as much as humanly possible and I would hope the chief executive and the chairman would understand that.
If this goes on I've got a good mind to change my name to a sponsor, let's see if I can get a deal to call myself John Lewis, certainly over Christmas anyway.
Bewildering
I was staggered to read an article in The Daily Mail this week where the Referees' Chief, Mike Riley, admitted Premier League referees turn a blind eye to foul and abusive language during the course of matches.
He explained that there's a difference between someone turning away and swearing at the referee, to using the same language to his face - but I found that distinction absolutely bewildering.
Why would using foul and abusive language in a more casual manner be acceptable rather than in the more confrontational fashion?
The TV cameras these days pick up absolutely everything and my kids play Sunday league football and ape what is going on in the professional game.
So I don't care if a player uses a four-letter word in a casual way or not, it is foul and abusive language; it's a dereliction of referees duty not to book him and for Riley to distend that was, for me, irresponsible.
It's not just the players on Sunday mornings; my kids that play are 13 and 15 but some of the referees are barely any older. Would that be acceptable in Riley's view if a 15-year-old turned round to a 16/17-year-old referee trying to make his way in the game and swore at him?
I just find it absolutely staggering; it's dissent for foul and abusive language and it should be treated as such. You can't say it was said in a certain way so it's okay, it's black or white, it's right or wrong.
If you look at other sports, can you imagine what would happen if in tennis one of the players used a four-letter word at the umpire over his shoulder? It just doesn't happen. In cricket they don't use that kind of language at the umpire because they know it wouldn't be acceptable and it shouldn't be in football either.
I must admit my language is very bad indeed, but when I watch my kids play football on a Sunday morning would I use a four letter word? No, of course not. I went to Newport v Hartlepool last Friday and was frustrated we were losing, but did I use a four letter word then? No, of course I wouldn't.
Riley talks about the pressure of the situation but these guys are earning £100,000 a week; a lot of people would love that sort of pressure and I'm sure they could cope with it without resorting to foul and abusive language.
Jeff's Gem of the Week
It was a last-minute goal that gave Northampton the win over Fleetwood in League Two last weekend and the goal was an absolute gem. Luke Norris, who is on loan from Brentford, showed a brilliant level of technique in what is the fourth tier of English football with his free-kick from just outside the box.
It was a superb strike over the wall but I'm even more pleased for Aidy Boothroyd, who is a mate of mine. He took a big risk when he stepped down to League Two, a lot of people were surprised, but he did a great job at Northampton last year and got them to the play-off final. It has taken a long time to get over that hangover but he is a top, top man and I'm absolutely delighted for him.