Tottenham should be scared after Man United's display in Europe, says Jeff Stelling
Jeff Stelling says Man United are starting to look like champions after their win in Leverkusen.
Last Updated: 28/11/13 5:01pm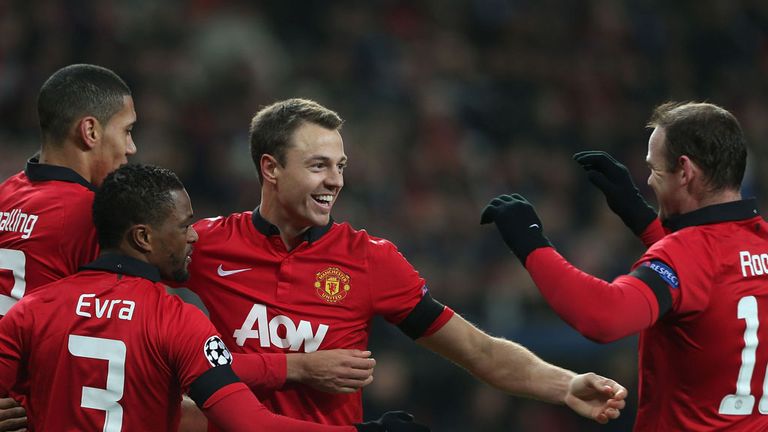 Not only did Man City put six past Tottenham last weekend but Man United come calling this Sunday as a side who are finally starting to look like champions.
Bayer Leverkusen were absolutely awful on Wednesday night and them being second in the Bundesliga at the moment might be an indication that German football is not the all-conquering, invincible force that we thought it was.
Peter Schmeichel, Graeme Souness and Jamie Carragher joined me to cover Leverkusen's game with United and they pointed out just how terrible Leverkusen's defending was - they were defending free-kicks and set-plays so deep they were almost in their own goal, let alone their penalty area.
However, I thought United's performance was not only their best performance under David Moyes and of the season, but possibly for a number of seasons.
When you consider the players that were missing - Robin van Persie, Michael Carrick, Nemanja Vidic, Marouane Fellaini and Rafael - I thought it was a startling performance and they barely let Leverkusen get a chance.
They scored five, which didn't flatter them as they could have scored 10, and at the heart of it all was Ryan Giggs.
Graeme questioned before the game whether Giggs still had the energy as an almost-40-year-old to cope with Leverkusen at this level of the Champions League, but he provided the answer by absolutley cruising through the game.
He made decisive tackles, played some beautiful passes, he was involved in the creation of three of the goals, he looked like a man who is holding back the years and I wish I knew his secret.
He was brilliant and what a way to toast his 40th birthday - I would say he'd be out celebrating but he's such a fitness fanatic I doubt he will!
The one piece of good news for AVB is that Giggs, having played the full 90 minutes on Wednesday, almost certainly won't be playing against Spurs on Sunday.
Pressure
Moyes has had his critics but United are still not that for off the pace in the Premier League - and they've already played Arsenal, Chelsea, Liverpool and Man City.
They don't play any of the sides that are currently in the top six at the moment until the middle of January, when they play Chelsea again, so this is a great for United to crank up the pressure on the sides above them.
I think Moyes should get massive credit; he's got a really well-balanced team between the younger and older players, and he is getting the best out of his side.
if you look at Wayne Rooney, he didn't perform like this last season and many thought that because he's had his issues with Moyes in the past that he probably wouldn't produce this season - and some United fans were even willing to let him go.
Plus, Antonio Valencia was brilliant on Wednesday night but was anonymous last season; if you look right through the team Moyes is getting performances out of all of them.
I think as a manager Moyes is probably very demanding but at the moment he's demanding and the players are delivering.
Flattering
Not always, because there was a heck of a contract between Wednesday's performance and the one at Cardiff last Sunday, where to say they were poor would be flattering in some respects.
So they've got to produce these sort of performances with the same level of consistency, something they haven't done this season; the results have been very hit and miss but I think this is the platform for them to build on.
It's a fabulous performance away from home and sends the message around the Premier League and Europe that United are still a force to be reckoned with.
I don't want to go absolutely over the top about Manchester United but there are just the signs that they are starting to gel as a team.
They've often been written off this season but the side are responding and beginning to produce what Manchester United sides have over the years.
They were my pick for the title at the start of the season and I still don't think they'll be too far away.
JEFF'S GEM OF THE WEEK
Tranmere won 5-1 at Coventry last weekend. They've had an absolutely atrocious 2013, they were brilliant at the start of last season top of League One and then they hit a spell where they couldn't win a game and only just avoided relegation.
They started this season dreadfully as well, but Ronnie Moore has got so much experience at this level and at times of crisis he always seems to wring that little bit extra out of his team and he's certainly done that because Coventry have been flying and Tranmere haven't been scoring goals, so to go there and score five was fantastic.
Ryan Lowe scored a hat-trick and his stats are impressive as well because he's got at least 10 goals in all of the last five seasons and he's got nine already this season, so he's a banker to make it six. He's also another one of the old men like Giggs and at 35-years-old it strikes another blow for the elder statesmen of football.