Jeff Stelling analyses the English teams' Champions League campaigns
Jeff Stelling rounds-up the English teams' Champions League displays and looks ahead to the last-16 draw.
Last Updated: 16/12/13 6:01pm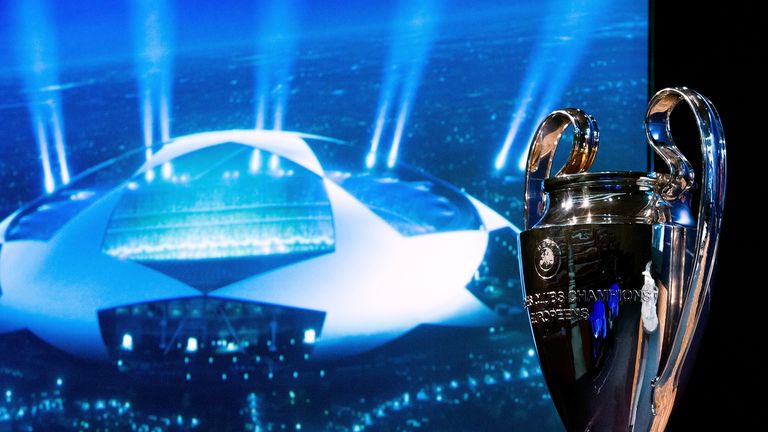 Manchester City
City have been the biggest talking point of this week. I feel for Manuel Pellegrini because there's no guarantee that had he got the maths right and put Sergio Aguero on that they would have scored that fourth goal that would have won them the group, but it would have improved their chances.
In the studio Glenn Hoddle said to me: "Do you think they understand that 4-2 will do?" Off camera I said: "Of course they do." But he was right and I was wrong and every ex-footballer I've spoken to since, including Thierry Henry, was in disbelief that it could have happened. Thierry said: "It could never happen to me because I study what we need and the results." I'm just staggered that nobody did that at City.
Now whoever they get, it's going to be a difficult tie. Don't get me wrong, 15 points and not winning the group is absolutely staggering and extremely unfortunate. At times as an attacking force they've been brilliant but what worries me is that they're going to come up against a big side now, we know that and defensively they worry me a lot.
Personally, although Thierry disagrees, I think Borussia Dortmund would be the best draw because they don't appear to be quite the force they were last season but, having said that, I've been to Dortmund and there's not really a more atmospheric ground in Europe. Arsenal have been there and won so they'll take encouragement from that.
Arsenal
Arsenal finished in second place as well and they'll be disappointed that they're going to have the same sort of draw as Man City. They're in the same situation as last year when they got Bayern and went out. It's hugely significant to win the group but, having said that, when the draw was made Arsenal may have been happy knowing they'd get through in second place.
I was a bit concerned to a degree against Everton and to a degree on Wednesday that they didn't look like the Arsenal that we've seen over the last four months of the season. That slick passing, the imagination and inventiveness just wasn't there. The zip was missing and I don't think anyone can argue that Napoli deserved to win on the night.
On the coverage we spoke about about the fact that this was their 25th game and you just wonder if a bit of fatigue is beginning to kick in because Arsene doesn't rotate his team on the same scale as the others do and you just wonder if one or two of them are getting a bit leg weary and, unfortunately, they've got Manchester City and Chelsea to come.
By February anything could have happened. Arsenal could be 15 points clear at the top of the table or they might be nowhere near so it's hard to predict. You do just wonder whether history will repeat itself and Bayern willcome out of the bag, so let's hope not.
Manchester United
The sides Manchester United could get in the next stage is the best piece of news David Moyes has had all season because they shouldn't care who they get out of that lot, they should beat any of them, certainly Manchester Uniteds of the past would do.
They weren't impressive beating Shakhtar Donetsk but the result was all that counted and that they topped the group was the significant thing.
I think they'll strengthen in the transfer window; Gary Neville doesn't necessarily agree with me and I understand where he coming from - it's hard to buy players that will strengthen your squad and will also be available to play in the next stage of the Champions League.
But there are players even in England who I think could potentially strengthen their squad. For Manchester United, though, the future is looking a lot rosier.
Chelsea
They've had highs and lows in their campaign. Probably more lows than highs when you lose home and away to Basel. They were also utterly underwhelming against Steaua Bucharest. The only thing that could be said was that they kept a clean sheet. All that practice against dummies in training paid dividends as the dummies didn't score.
It's not the same Chelsea, Jose Mourinho has said that and he's right. They've got issues and even against Steaua - who've been the whipping boys in the Champions League since 2006 when they last won a game - they still gave them opportunities through the course of the game.
They've got issues defensively and issues up front where their strikers, despite Demba Ba shinning one in, aren't scoring enough goals. They've got a star-studded midfield but Jose is right when he says they're not amongst the favourites. Having said that, I think out of all of the English sides they might well go the furthest as they've done it before.
They won the thing when they hadn't been playing particularly well and Jose is the master of getting results when they're not doing well. They should reach the quarter-finals and at that stage nobody wants to play Mourinho.
You can see the last-16 draw live from 10am on Sky Sports News on Monday.
JEFF'S GEM OF THE WEEK
Derby thumped Blackpool 5-1 last week and it's five wins on the bounce for the first time since 2006-2007. Steve McClaren believes in playing the football from back to front, they're scoring lorry-loads of goals and he's won seven of his first nine in charge.
Nigel Clough put down the groundwork, no question about it, but McClaren is rapidly restoring his reputation - if he needed to do so - as a coach. I'm pleased for him because he's a nice guy and has come through the England nightmare and come out of the other side. Pride Park, as we must keep calling it, is rocking these days.