Manchester United owners must invest in world class talent, says Jeff Stelling
The Glazers, not David Moyes, are responsible for Man Utd's struggles this season, says Jeff Stelling.
Last Updated: 04/01/14 11:26am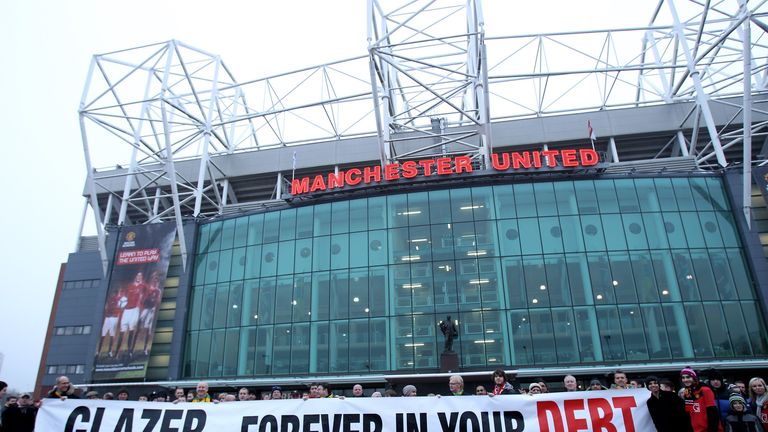 I hold my hands up because at the start of the season I thought they'd win the title. Not for the first time I'm going to be wrong.
There's a lot of finger pointing going on at the moment and David Moyes, the man who has the poisoned chalice of replacing Sir Alex Ferguson, has come in for criticism while others are questioning whether the players are good enough.
I understand that but maybe the focus of attention might be better served on the owners.
When the Glazers arrived in 2005, United were feared across Europe. When there were big transfers out there United were the big players - Rio Ferdinand, Juan Sebastian Veron, Ruud van Nistelrooy, Wayne Rooney. Wen there was a big name going somewhere, generally speaking, he was going to United.
Since the Glazers took over that hasn't been the case. Since 2005 there doesn't seem to have been the level of investment in players needed to keep United at the top of the tree, domestically or in Europe.
Marouane Fellaini was a last-ditch transfer in the summer. In years gone by United would have been the leading contenders for Gareth Bale, or Edinson Cavani, or Falcao, or Neymar. Yet now, they don't seem to be able to play in the same ballpark.
Instead they have to watch Man City pay money left, right and centre for the likes of Fernandinho, Jesus Navas, Stevan Jovetic and Alvaro Negredo, while Tottenham and even Arsenal also out-spend them. That must be hard to swallow for United fans.
Because of the deal the Glazers did to finance their takeover, the interest payments are crippling the sort of investments the club need to be making in players.
World class?
The January transfer window has just opened and I think we'll see them struggle again to add real quality to their squad.
United's January buys in the past haven't always been great and let's be honest, the big players have already gone in the summer. United are just looking at scraps.
Jose Mourinho is putting the 'for sale' sign out for Juan Mata, who is a smashing player and one of my favourites, but is he what United need at the moment? There's no need to buy for the sake of buying. United need to sign the right players - however, the great majority of those have gone.
Next summer, after the World Cup, there will be a lot of players who have performed in Brazil on the market. They'll be going at premium rates, though, so will the Glazers be willing then to put their hands in their pockets to bring in the big signings?
It's not all doom and gloom for United, though. David de Gea, Rafael, Chris Smalling, Phil Jones, Danny Welbeck and Tom Cleverley are all good, young players who are only going to get better. But are any of them really world class? That's what United were used to bringing in before.
Replacements
Another thing the owners have been guilty of is letting the top class players they had there grow old and diminish without replacing them.
Gary Neville is a classic example, but you could also name Rio Ferdinand, Nemanja Vidic and Ryan Giggs, who are still playing, or Paul Scholes - who've they been replaced by? Not like-for-like, nowhere near.
When the Glazers came in everything was in place and a lot of those players were in their pomp so inevitably that decline wasn't going to start immediately. It was going to take a while before the lack of significant major funding - on a par with the other European giants - was going to take effect.
Fergie, in a way, worked a miracle to win the Premier League with the team he had last season. Everyone said at the time 'this is not a great Manchester United side' - and it wasn't.
But it did have a great Manchester United manager who could cajole them into winning the league, while the other teams around them all had significant issues, from Roberto Mancini having a real struggle at Man City and Chelsea throwing managers away like confetti to an Arsenal side reluctant to spend.
I was naïve in believing anybody could repeat that - and I wasn't alone. It wasn't going to happen without the money being pumped back in.
I don't know when it will end because I'm not a financial expert and I don't know about the Glazers passion for the game. But Liverpool were invincible, big players once and they've been away from the top table for a long time. Without the right kind of backing it might be a while before United are the force they were before.
JEFF'S GEM OF THE WEEK
Spurs and Chelsea are contenders but I'm going with Bury for winning 3-0 away at my lot, Hartlepool. Bury supporters on Twitter have really made me suffer this week!
David Flitcroft who in his first season in charge at Barnsley did brilliantly has gone there and taken them from a position where they were in dire straits to playing the game in the right way, with the ball on the deck and it seems like it's working immediately.
It was a stunning result because we've been in good form. Our manager Colin Cooper says he didn't see it coming and I didn't see it coming either so well done to Bury. It's onwards and upwards for them.