Southampton: Mauricio Pochettino would be ill-advised to follow Nicola Cortese, says Jeff Stelling
Mauricio Pochettino would be ill-advised to leave Southampton in their current turmoil, says Jeff Stelling
Last Updated: 16/01/14 1:56pm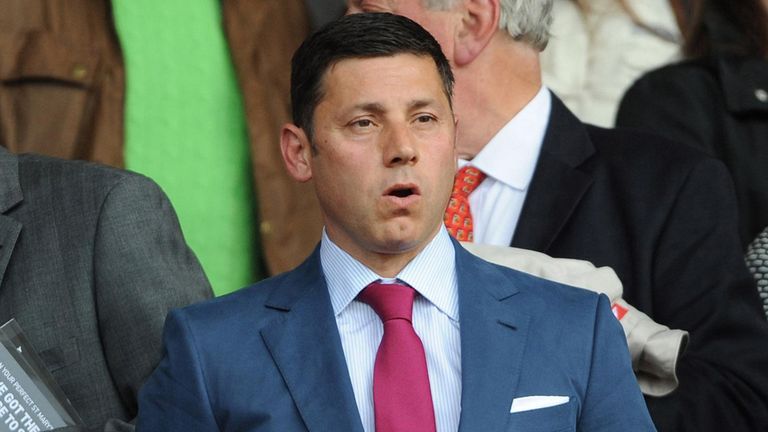 With their executive chairman gone, the manager threatening to leave and the legend that is Rickie Lambert rumoured to be in transfer talks elsewhere, it's become an absolute nightmare.
Back at the start of Nicola Cortese's reign it would be unimaginable to most people that he would over the years - despite his ruthless style - establish himself as such a huge figure for the football club. Everyone was suspicious of him. He was a decision-maker regardless of how popular or unpopular those decisions have been.
When Cortese first arrived he discarded staff that'd been extremely loyal during the times of their financial difficulties. He disregarded the history. He made enemies of former Southampton stars. He fell out with the Ex-Saints player association. He banned the local newspaper and generally speaking, in a lot of areas, became a most unpopular figure and did not appear to care one jot because he was going to do things his way, and he did.
He sacked Alan Pardew - a popular figure - when he got them to seventh in the league and took them to Wembley despite a 10-point deduction.
He sacked Nigel Adkins who had got them promoted twice - and again, Adkins was a popular figure.
He appointed Mauricio Pochettino, who nobody on the South Coast had ever heard of but at the end of the day he will point to the league table and say "we are in the top-half of the Premier League and may make Europe whereas we were down at the foot of League One and financially bereft".
It's been an interesting few years to say the least.
Power struggle
There's no question that Cortese wanted to do things his way and wanted more and more of the power and would effectively demand to run the club his way. But the club belongs to the Liebherr family and they rescued Southampton in 2009 and will always be gratefully remembered by the fans.
It's unclear what the disagreement boils down to but it's possible that they resented the fact that Cortese wanted to wrestle so much control from them. Obviously, they bought the club for around £14million and they could sell it for six or seven times that now.
I know there's speculation that they may sell the club but I'm not convinced that that is in the plan. I think it might have been more an angling for overall control over the club between Cortese and the Liebherr family.
You could also argue that the club is at its peak value right now - are they really going to make the break in to the next level, which would be Champions League football in the immediate future? Do they have a fanbase set to ever achieve that?
But equally, do the Leibherrs really need that money? That's small change to people with a £3billion family fortune. I'm not sure how beneficial selling the club would be to them.
My guess would be that they knew about their father Marcus Leibherr's passion for football and his passion for Southampton. Once again I'm guessing but I think they may be reluctant to do anything that would seem to disregard their father's passion just a couple of years after his death.
Support
Good luck to Pochettino if he leaves his post. There's no doubt that he has enhanced his reputation at Southampton several times over. It's a good club playing in the top half of a league regarded as the best in the world; where is he going to find a job that is as appealing?
I think he would be ill-advised to walk away.
A lot depends on who comes in to replace Cortese and whether they will give him that same level of support. They've spent a lot of money over the years on players like Dani Osvaldo, Gaston Ramirez and others like Jay Rodriguez and Dejan Lovren, so Pochetinno will want reassurance from whoever takes over that that sort of financial clout continues and also that there won't be a fire-sale of their young talented players.
As well as Lambert - who is towards the end of his career, there's buyers for Luke Shaw, buyers for Adam Lallana, buyers for the likes of Nathaniel Clyne and James Ward-Prowse. There will be a queue of people knocking the door down to buy Southampton players. It's important that whoever does come in continues the club belief that those players are the future and they want to hang on to them for as long as possible.
Saints fans today are going to be mighty worried because they will remember only a handful of seasons ago - and I mean this with no disrespect to my club - that they were traveling to Hartlepool for away games in League One and now they're travelling to Liverpool and Old Trafford.
You don't need a long memory to remember the bad times at Southampton and I know from talking to a few of the fans that it could all fall apart if the worst-case scenario was to be revealed and they're desperate to see someone put in place by the Liebherr family who is a safe pair of hands.
They're desperate to see Pochettino carry on as manager and they're desperate to see the young players to stay at the club.
JEFF'S GEM OF THE WEEK
There's only one I can pick, it's in the Conference and it's Hyde for their 2-0 win at Welling.
People who watch Soccer Saturday regularly will know that I've been wearing the Hyde scarf for the last two or three weeks. They hadn't won at all this season, it was their 30th attempt in midweek to win a game and they did it!
People who were calling me a jinx are wrong, I must be their lucky omen - they're now on an unbeaten run of two. The goalkeeper is a Chilean called Lawrence Vigouroux and he was keeping his first clean sheet of the season and here we are in the middle of January.
Onwards and upwards for Hyde, they've now got seven points in the season and are only 19 points of safety with two home games to come they could soon be looking over their shoulders as Hyde go on the march.