Jeff Stelling: The harsh world of League Two and Southampton's unsung hero
Jeff Stelling recalls a wet and woesome trip to Wimbledon to see his beloved Hartlepool.
Last Updated: 06/02/14 3:25pm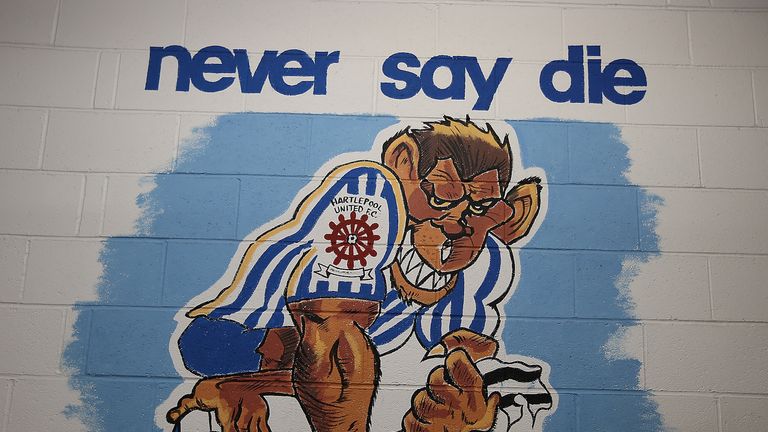 It was a no-brainer we had to go there.
It was a dark, rainy, windswept night at Kingsmeadow but in fairness it was packed near to its 4,700 capacity. There were 239 Hartlepool fans - excluding myself and my son - who had made the midweek 300-mile journey each way and this game was reflective of what happens at this level of football all the time.
It was an experience in what the fans, the players and the staff go through at this level every single week. The gut-wrenching, nerve-wracking, fearful experience that it is, because it's not just about the points; it's about survival.
Sides who lose in the Premier League, Championship or even League One - where we were for seven years in a row - have always got a buffer.
But if you do badly in League Two then you're out and into the Conference and with all due respect to it, the Conference is the wilderness, it's hard to get back out of. There's this feeling that it's an uneven battle for all of the sides in the league.
Desperate
We've got some highly-regarded youngsters in our squad alongside the experienced Marlon Harewood and Pools servant Andy Monkhouse.
Luke James, our phenomenal 19-year-old striker, is being watched by a lot of teams. We've got an 18-year-old midfielder in Brad Walker, who has been with England training camps and being watched by a host of clubs and our centre-half Jack Baldwin is also being tracked.
As a fan you watch the transfer window tick away hoping that at no stage during the day does anyone say 'Sky Sources say that Hartlepool....' because you're desperate to hang on to them all.
During the match I was sitting with Hartlepool Chief Executive Russ Green on one side and the other side of my son and I was the Chairman Ken Hodcroft - I could almost feel their differing emotions.
Of course they both wanted the team to win, but with the transfer window open my son Robbie asked Russ if there had been any interest in any players and he said, 'Just one enquiry so far'. You really felt that he doesn't want to sell anybody.
On the other side the Chairman's take on things would be quite different - he's got to balance the books and will want enquiries and will want to sell players.
Back to the game, and we played absolutely fantastically; we were brilliant, utterly dominated the game and scored after 43 minutes.
We went in at half time and Wimbledon's Chief Executive Erik Samuelson said to me, 'I don't know how it's only 1-0' and he was reflecting what everyone felt, but as a supporter your nerves are shredded because it's only 1-0!
At this stage last season we were the only club in the country who had a 100% record after scoring the first goal - 12 wins out of 12 in all competitions - so at the half-time interval we were clinging on to that stat.
The second half went on in similar fashion but the longer the game went on the more Wimbledon gradually got in to it. We starting to think about the table and thinking 'crikey, we're mid-table but getting closer to the relegation places than the play-off ones'. In your mind you're calculating the table, working out how many points clear of the bottom you are.
We had chance after chance after chance but their goalkeeper Ross Worner was just sensational. They'd signed him on a free transfer from Aldershot and I thought - blooming hell, Aldershot must have some fantastic goalkeepers - because this guy was just absolutely exceptional, he was Joe Hart and Peter Schmeichel all rolled in to one.
At this stage someone told me Liverpool were 4-0 up against Everton and I thought, I don't give a monkeys what's going on in that game, all I care about is the fact that Hartlepool have got half an hour to survive with a 1-0 lead!
Credit to Wimbledon manager Neil Ardley who used all three of his substitutes voluntarily in the first hour and just totally gambled. It came down to our goalkeeper making a mistake to make it 1-1, then with 16 minutes to go they scored again and it was 2-1.
We battered them again in the last few minutes but to no prevail. At the final whistle our trio of talented teenagers to a man went down to the ground on their haunches, they were absolutely devastated.
Painful
The tension at this level in a game like this is hard to explain. It didn't matter that after the game their manager said he's 'trying to get his team to play the way we did' and 'we were the best team they've played this season'. The point was that we'd lost and the bottom two are looking closer and closer to us now, as is the edge of the precipice.
It was a memorable but painful night out and just a reminder of how harsh the football world is at every level but particularly at League Two and especially for the young kids when you come away with absolutely nothing.
My son and I got back in to the car and drove the hour home thinking to ourselves, there are lot of people worse off than us; the other Hartlepool fans with their 300-mile trek home.
And as for 19-year-old Jack Barmby - the forward we have on loan from Manchester United - his dad Nicky, mum, sister and brother were making the 800-mile round trip from Hull to watch their son get on for the last quarter of an hour.
Now that's dedication!
JEFF'S GEM OF THE WEEK
I'm moving straight up to the other end of the scale now and I'm not even going pick a team who won...
I got home from the Hartlepool game and watched Southampton's 2-2 draw with Arsenal on Match Choice. That first 45 minute performance was one the best performances by any side in the league this season.
When you take in to account that they had no Dejan Lovren at the back, no Rickie Lambert or Dani Osvaldo up front, they totally out-Arsenaled Arsenal with brilliant slick passing.
And again it was the kids; Luke Shaw was absolutely fabulous, Calum Chambers on the other side was equally as good, they put the boy Sam Gallagher up front and though people will talk about his miss, his overall performance was excellent. Then in midfield I want to mention one of my favourite players who never gets a mention anywhere because of the sort of job he does is Jack Cork; who is just phenomenal, always available, virtually never gives it away and he's the heartbeat of the team.
A lot of people predicted that when Nicola Cortese left things would fall apart at Southampton and it would affect the players, well it hasn't done that one job and if anything, they're playing better than ever.
From the Super Bowl to the Showdown on MNF, it's a great weekend on Sky Sports. Click here to upgrade