Jeff Stellling 'bewildered' by Roy Hodgson's England team against Denmark
Jeff Stelling can't understand Roy Hodgson's "bewildering" selection and tactics against Denmark.
Last Updated: 06/03/14 2:41pm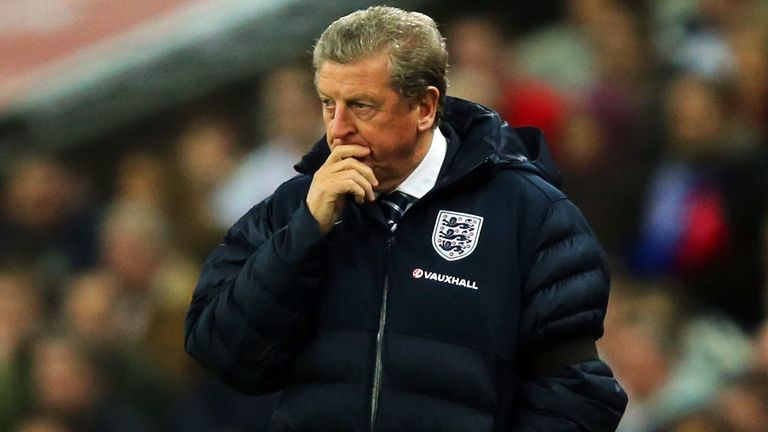 Of course it's an impossible job because whatever team he picked he would have been wrong in the eyes of somebody. However, I don't understand why he picked a team seemingly to win the game because a 1-0 win over Denmark in a friendly in March is of such utter irrelevance.
Why did Joe Hart play 90 minutes? Why did Glen Johnson, Gary Cahill, Steven Gerrard, Wayne Rooney and Ashley Cole start the game?
I just didn't understand any of it. Why, having picked four goalkeepers in his squad, did none of the other three get off the bench?
Why didn't we see Ross Barkley or Jay Rodriguez on the night? Why didn't Luke Shaw, Adam Lallana or Alex Oxlade-Chamberlain get a start in the team and potentially 90 minutes?
What did we learn about Rooney? What did we learn about Gerrard? What did we learn about Johnson? Absolutely nothing. I was bewildered, bemused and befuddled by it.
Andros Townsend came on with four minutes to go. What's that all about? Did he book his place on the flight to Brazil in four minutes?
People have been talking about Ashley Cole and saying he started because he needs a game. There's 99 days to go until the World Cup, so what is he going to get from half a game for England at the beginning of March? How is that going to change his match sharpness and fitness when it comes to Brazil?
Then there's the fact that he played Rooney up top which meant Daniel Sturridge was effectively pushed out wide. The guy said he hated playing out there when he was at Chelsea; he'll put the shift in of course, but it's not his best position.
There were so many questions.
Positives
On the positive side there were some decent performances. For example, Sturridge got a goal and Lallana increasingly looks like the best player in the squad and looked a different class.
Luke Shaw came on and looked like he had 100 caps for England. That's not to say Cole did badly, but when you're looking to the future there has to be only one decision about who goes as the other left-back with Leighton Baines.
So there were a few positives - but not many - and I was confused with the selection.
Of course I understand that Roy was trying to use some different combinations, but to me that should be done later in the year. At the moment it's all about selecting the players that are close to going on the plane and giving them the chance to stake their claim.
He's right when he said no decision would be based on Wednesday night and we've got to watch carefully from now until the end of the season, but I was gobsmacked by it.
I just wonder what was going through Townsend's mind when, four minutes from the end, Roy said: 'come on Andros, on you go'. I wonder what was going through the three substitute goalkeepers' minds?
When are they going to play? We're running out of chances now and this would have been the perfect opportunity, in a high-pressure situation in front of a Wembley crowd. OK, the Danes would have given them precious little to do but still, I was surprised by it all.
Roy's an experienced manager and his number two is pretty good as well. One G. Neville knows his stuff and they all know a lot more than I do and have the masterplan sussed.
But after what I saw last night I don't understand it.
JEFF'S GEM OF THE WEEK
There were so many goals scored last week it was ridiculous, particularly in the Championship where if you didn't score more than four you weren't up to scratch.
But I'm going to go for somebody we don't mention too much - and that's Plymouth. They beat Morecombe 5-0 and are now on the brink of reaching the League Two play-offs. Earlier in the season they couldn't score goals but John Sheridan has got then going and I thought he was really unlucky to lose his job at Chesterfield.
We all know Plymouth is a big city and the club has got huge potential. If they were to get out of League Two this season there's no reason why they couldn't build and get back to the sort of levels they used to perform at in the Championship.
Full marks to them. To score five goals against anybody is terrific.