Manchester City: Players need to prove they're the superstars we think, says Jeff Stelling
Jeff Stelling says Man City must cross a huge gulf before they can win the Champions League.
Last Updated: 14/03/14 3:15pm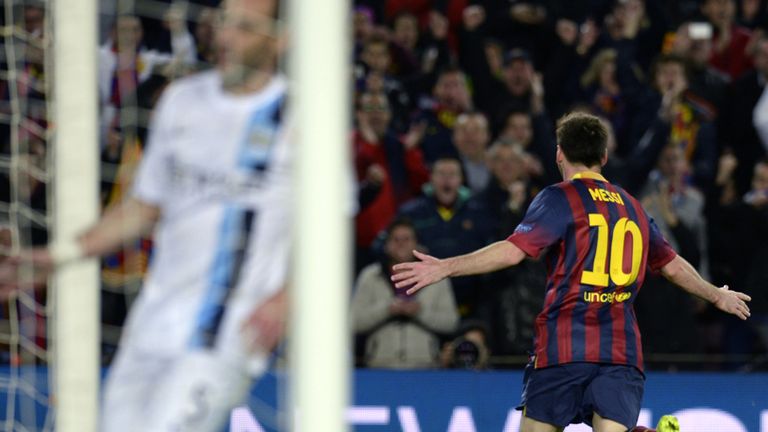 After the game City captain Vincent Kompany, who was unquestionably their man of the match said: "We've nothing left in the tank".
He believes that 12 months from now they can have a real go at winning the Champions League - and while I hope he's right, I'm not sure he is.
They're clearly still short in some departments, particularly defensively.
They need a new central defender - though that's no disrespect to Joleon Lescott who was put in the impossible position of not playing regularly in the Premier League to then facing Lionel Messi.
They also need a new full-back and probably someone else in as defensive cover, while I still think they need extra options in midfield, so I think they're looking at four or five more players.
But, while I don't know the ins and outs of Financial Fair Play, I'll be surprised if they can go out and spend another £100million on those players and still apply with the FFP regulations.
Superstars
There are others things as well, though.
We've all judged their squad to be the best in the Premier League but it's one thing beating, with all due respect, one of the lower-ranking sides in the league and another doing it in the Champions League.
To show you're a really great player you need to do it on occasions such as last-16 games against Barcelona and I'm still not sure that all of City's superstars did that.
To be honest, I was disappointed with Yaya Toure again - I didn't think he imposed himself in the way that he should have in the game - and David Silva, who is a smashing player to watch, was peripheral.
There was lots to like about Samir Nasri's movement but when a glorious chance came his way he didn't take it, so I think some players have to step up and show that they're as good as we think they are.
In schoolboy comparisons, who of those players last night would get in the Barcelona team? Well, Kompany for sure and Aguero in normal, uninjured circumstances might do, and Joe Hart had an excellent game but asides from that? Not Toure, because they sold him to City!
Chances
There were some areas that impressed me.
I did like the way City pressed high up the field early on and created plenty of chances, but they could have been behind early on if the referee hadn't made a couple of horrendous decisions.
Barca did have some good chances, yet this is a side who, in the Spanish media, are getting absolute pelters at the moment - or whatever pelters is in Spanish.
They say that Lionel Messi is having his worst season ever and in the early parts of the game last night the Sky commentary boys were agreeing, saying 'he still doesn't look fit' - but he was still more than good enough to take City apart at times.
It's by no means all doom and gloom but I still think there's a big gulf to cross before Manuel Pellegrini's side can even begin to think about winning the Champions League.
It's someway in the distance.
In this week's Champions League podcast, though, my colleagues Gary Neville and Martin Tyler tipped Bayern Munich to retain the title this season but I don't think we saw the competition's best team play this week...
I'm a Real Madrid man - they have so much scary firepower with Cristiano Ronaldo, Gareth Bale and Karim Benzema, while Luka Modric is showing what every Tottenham fan could of told you: that he is a terrific footballer.
I fancy the Galacticos for the title this year but, of course, so much depends on who these teams get in the quarter-finals.
JEFF'S GEM OF THE WEEK
I've got to give it to Accrington Stanley this week for beating Chesterfield 3-1 with 10 men.
Accrington manager James Beattie popped in to the Soccer Saturday studio a couple of weeks ago - and despite their position in League Two and despite the fact that he's had to dip in to his own pocket on a couple of occasions to help them out financially - he's absolutely loving it.
It was a terrific result for them and they are the ultimate tube dream club, if you like, as they work on a ridiculously low budget.
Their financial director was on the radio the other week talking about Wayne Rooney's £300,000 a week contract at Manchester United and saying that £300,000 is more than they take on the gate in an entire season at Accrington.
If they can maintain league status with budgetary restrictions like that then good luck to them, so well done to James and, of course, Sky Sports Cricket's Bumble, who's a big fan of the club.
Which players from the Manchester City team would make it into the Barcelona side? Let us know by leaving your comments below...
The great sport keeps coming during Magnificent March. Here are some of the highlights you can enjoy with Sky Sports.