Jeff Stelling: Sunderland have a fantastic chance of survival if they beat Cardiff
but may need a miracle just like my team, Hartlepool, got this week...
Last Updated: 24/04/14 3:39pm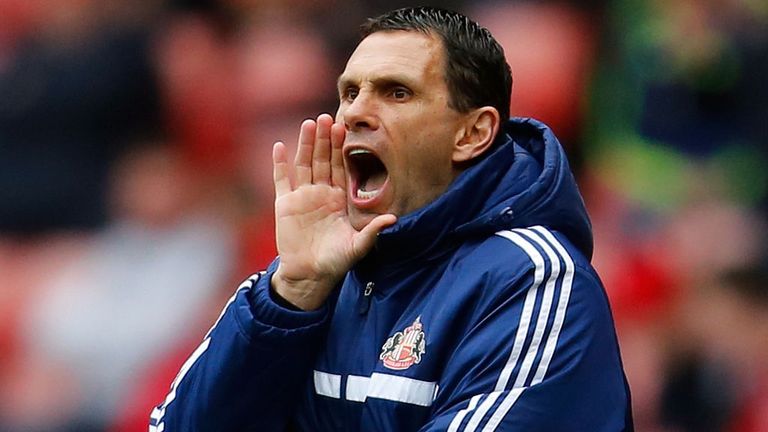 But that pales in to insignificance in comparison to the battle for survival at the bottom of League Two.
It's not the end of the road any more because there is way back via the Conference, which wasn't always the case, but it's hellish hard.
Look at the sides who have gone out of the Football League in recent years - FA Cup giant killers Hereford who are battling for survival financially and on the field, Aldershot, Macclesfield, Grimsby, Chester, Kidderminster, Halifax, Wrexham, Cambridge, Lincoln City, Barnet, Southport - these have all been league teams in my lifetime and now they're finding it near impossible to get back.
Even Luton, who get fantastic support and financially have much more clout than most sides in League Two, have found it hard to return and have had to spend five years in purgatory.
This weekend I really feel for the Torquay Uniteds, Wycombe Wanderers and Northampton Towns of this world and their supporters.
Because I know how they feel.
Miracle
On Monday morning my 15-year-old son Robbie and I got the in the car and drove to Hartlepool to see them play Morecambe, knowing that if we lost there was every chance we were going to go out of the league.
Two points clear of the relegation places, a host of players out injured, a lot of teenagers running on empty off the back of six straight defeats - we were in free-fall.
The feeling around the ground, which was virtually full, was apprehensive. I couldn't eat beforehand I was so nervous.
Our top scorer Luke James was sitting in front of us, crutches in hand from being crocked in the last game, and he could hardly watch.
We went a goal down in 20-odd minutes and I don't blame the Morecambe supporters, but I couldn't raise a smile when they started chanting 'Stelling, Stelling what's the score?'
Ten minutes in to the second half we had one of our most experienced midfielders in Simon Walton sent off. The misery appeared to be complete; a goal down at home to relegation rivals, down to ten men with the natives getting extremely restless and then suddenly there was miracle...
A guy called Jack Compton got off the bench and just ran at Morecambe, ran again at Morecambe, ran some more at Morecambe and then scored a wonder goal and we were level.
Then, Jack Barmby, who is Nick Barmby's son, came off the bench and with one of the coolest finishes you've ever seen, put us in front.
With ten minutes to go we'd run out of legs and Morecambe flung absolutely everything at us in those few minutes, but we hung on.
To quote Paul Merson, at the final whistle they were 'all piling on top of each other, it's love bites and everything.'
The relief was incredible and by then we knew Wycombe and Bristol Rovers had both lost and we were safe.
We can now enjoy the last two weeks of the season; Morecambe, however, can't quite. I have to say their manager was magnanimous, it would have been easy to be slightly bitter about it. I spoke to four or five members of their board who were as courteous as they could be in defeat and they're a credit to the club because they were in non-league football not so long ago.
To all you supporters of higher league clubs, relegation isn't the end of the world but down in League Two it's pretty darn close to it.
Cat fight
Sunderland gave Hartlepool a huge helping hand this season by loaning them two players. One of whom is a guy called Scott Harrison who played against Morecambe and was magnificent - he was more like Harrison Ford than Scott Harrison.
The Black Cats host relegation rivals Cardiff this weekend and yes, the loser looks destined to go down. Gus Poyet's side had that amazing win at Chelsea but, the problem is, of their 29 points this season 21 of those have been against sides in the top half - that's when they seem to perform.
I don't mean to offend anyone in Cardiff but my North East bias says that Sunderland will win it and if they do, they have a fantastic chance of getting out of this.
Whatever happens to them this season I think Poyet has done a terrific job.
JEFF'S GEM OF THE WEEK
Both Hartlepool and Sunderland were real contenders this week but I've gone with Millwall for their win at Middlesbrough last weekend.
It's taken a little while for Ian Holloway but he's now had three consecutive away wins. Their two goals at the Riverside were scored by Stefan Maierhofer, who I described as a 'Giant German' - only to discover he's from Austria a little later - but Giant Austrian doesn't have quite the same alliterative ring to it. He'll have to become the 'Awesome Austrian' or something.
Millwall have come back from the dead and they've given themselves an absolutely cracking chance of survival, but they haven't got an easy finish away at QPR and at home to Bournemouth.
It's a big weekend for Ian Holloway because he had five years as player and five as a manager at QPR. I hope he gets a warm welcome and he might just get the points he needs to survive.