Sheva hints at MLS move
Ukraine's goalscoring hero Andriy Shevchenko remains undecided over his future but has suggested he could spend next season in the MLS.
By Patrick Haond
Last Updated: 15/06/12 10:37am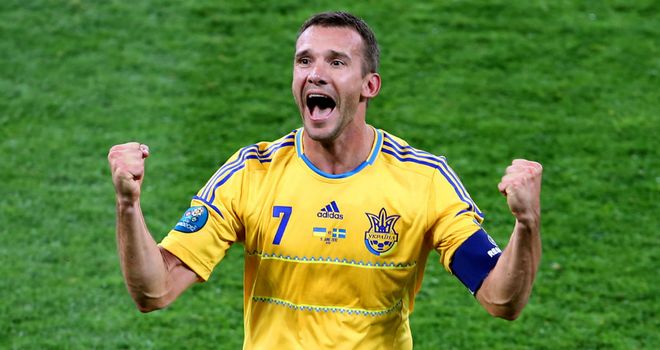 Ukraine's goalscoring hero Andriy Shevchenko says he remains undecided over his future but has suggested he could spend next season in America playing Major League Soccer.
The Dynamo Kiev striker, who inspired Euro 2012 co-hosts Ukraine's opening 2-1 victory over Sweden on Monday night with two headed goals, has previously said he could retire after this summer's tournament.
However the 35-year-old former Chelsea man says nothing is set in stone, revealing he could follow fellow ex-Premier League players David Beckham and Robbie Keane in plying his trade in the USA.
Decision
He said in the Daily Telegraph: "I'll decide after Euro 2012 what I'm going to do, including having the opportunity to play in the US."
Shevchenko intends to stay in football in some capacity after the Euros, even if he is not playing.
He told L'Equipe: "After the Euros I will remain in football. I don't know if it will be as a player. It will all depend on my feelings."
After an ill-fated and injury-hit stint with Chelsea ended in 2009, Shevchenko says he could have stayed in England or joined a club in Spain and Italy, but wanted to return to boyhood side Dynamo, potentially to finish his playing days.
"I could have remained in England, gone to Spain or gone back to Italy," he added. "But my dream was to end things where everything started for me, at Dynamo."
The striker says he found life tough at Chelsea after a trophy-laden stint with Milan, admitting injuries hindered his game.
"Do I regret joining Chelsea? It was my personal choice. I wanted to leave (Italy), have another experience," he said.
"Living in London, where I felt fine with my family, allowed me to stabilise my life. But on a footballing level, obviously I lost something.
"I left Milan at almost 30 years old, having won everything. When I came to Chelsea, everyone expected me to repeat the same performances - but it was impossible. I suffered a lot of injuries and a lot of other things."
Following his fairytale start to the Euros on Monday, Shevchenko will next go up against France with Ukraine on Friday before facing England in the co-hosts' final Group D game next week.
Les Bleus coach Laurent Blanc is well aware of the threat posed by the former AC Milan forward.
As a former central defender, Blanc has witnessed first-hand the talents of the Ukrainian and knows that despite his advancing years - Shevchenko will be 36 in September - he remains a danger.
Clever
"Shevchenko is someone I know well. I was lucky enough to play against him and sometimes I was not happy at the end of it because he is not easy to play against," said the France coach ahead of the two countries' clash on Friday.
"He is no longer 20 but he is so clever with the runs that he makes and he showed that in the first game.
"We won't focus solely on Shevchenko. In my opinion, he's a great player and always in the right place at the right time.
"The big players perform at big tournaments and he is showing that."