Captain Vincent Kompany proud to be part of Belgium side being tipped for success
Vincent Kompany is proud to be involved in a Belgium side who are being tipped to bring success to their country.
Last Updated: 06/09/12 5:22pm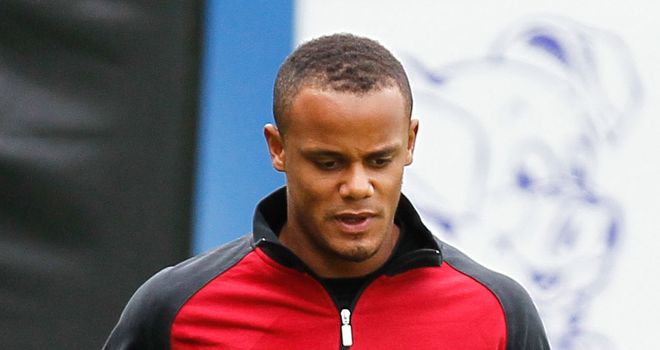 The formidable Manchester City defender and inspirational captain is one of a rapidly-growing number of talented Belgians playing in the Premier League.
Belgium have not featured at a major tournament since 2002 but a current crop that also includes the exciting Eden Hazard, Marouane Fellaini and Mousa Dembele look destined to change that.
Proud
They were considered the best team not to reach Euro 2012 and Wales are set for a stern examination as their World Cup qualifying campaign begins at the Cardiff City Stadium on Friday.
Kompany, also the national team skipper, said: "I'm proud of all of them.
"There are almost too many to name now, there are so many Belgian guys now in the Premier League.
"When I signed four years ago I was the first, then Fellaini came just after that and (Thomas) Vermaelen.
"Ever since it has been a very good competition for Belgian players.
"Not only do we showcase our talent in the Premier League but I hope at the international level as well now.
"We do sell a few beers as well - but we do have a few more things than chocolate and waffles!"
Belgium have nine Premier League players in their squad to face Wales, including the recently arrived Hazard, Jan Vertonghen and Kevin Mirallas.
Another highly-rated player, Axel Witsel, this week made a £32million move from Benfica to Zenit St Petersburg.
Kompany expects the top-level experience to prove hugely beneficial for the national side.
Experience
The 26-year-old said: "The reason we just about didn't qualify for the Euros - even though we had big talents in the team - was because there is still a difference between success or performing every week at the top and supposedly being able to play at the top.
"The step has been made now by many players - Vertonghen, Hazard, Dembele.
"There are so many players now that play at the top of the competition and that will add so much experience.
"At international level the teams that do well are the more disciplined and the more experienced. By definition our team was very young so it was very difficult."