England goalkeeper Joe Hart ready to remain alert against San Marino
England goalkeeper Joe Hart will be happy if he has a quiet evening at Wembley against San Marino tonight.
Last Updated: 12/10/12 8:02am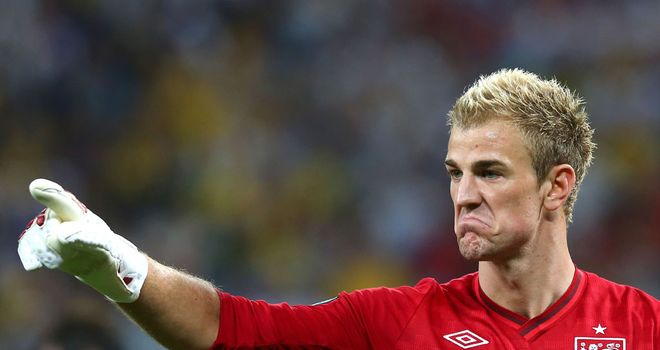 The Manchester City keeper admits he used to enjoy having lots to do in games as a youngster.
But now he will settle for a comfortable win even if he doesn't get the chance to impress against the minnows of World Cup qualifying Group H.
"Like most teams when they come to Wembley they're going to try and get people behind the ball," he said.
"You can't foresee what the game is going to be like but I know I'll need to keep alert, keep other people alert and help in any way I can.
"But if that means staying out the way then I'll stay away."
He added: "As a kid I used to enjoy it when we were hammered and there was loads to do.
"But this is our livelihoods now. I want us to win 10-0 and me not to touch the ball.
"I am not going to stand there and sulk because they are not coming near the penalty area."
Loss
Hart will not have John Terry protecting him following the Chelsea defender's retirement from international football and he believes that will be a big loss.
"John is a great centre-half and a great servant to his country. It's a shame we've lost him," said Hart.
"I don't know what's going on in John's life on or off the field. I only know him when I'm here training and eating chicken and pasta next to him.
"He is a really good guy and, football wise, an inspiration. It is a big blow not having him here."