Boss Roy Hodgson says England should believe it can lift the World Cup in 2014
England boss Roy Hodgson says the team should fight the doom-mongers and believe they can lift the 2014 World Cup.
Last Updated: 23/12/12 3:15pm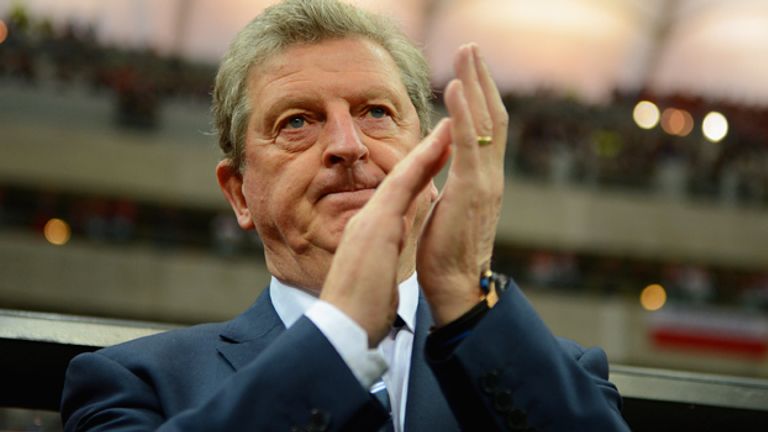 The 65-year-old replaced Fabio Capello in May following the Italian's resignation and led England to the quarter-finals of Euro 2012 in his first major championship at the helm.
England's only tournament triumph was the 1966 World Cup, but not having reached a semi-final of a major event since Euro '96, few will expect too many fireworks on the biggest stage in Brazil in 18 months.
But pointing to Chelsea's hugely unlikely Champions League glory last season, Hodgson told BBC's Radio 5 live: "You could say we are far from being favourites for the World Cup so therefore winning it is not a likelihood.
"But you've got to shy away from 'impossible' in football. There are plenty of events that we could point to in footballing terms that you could have said were impossible, but people have done it.
"It wasn't likely that Chelsea would become champions of Europe, especially having to change their manager in mid-stream but they did.
"That was by beating Barcelona and Bayern Munich, two of the best teams in Europe along the way, so I'd like to keep that dream alive."
The former Fulham manager strongly denied the claim that there was a severe shortage of quality players available to him.
"I hope that I will never been tripped into saying, 'well, we don't have enough players or there's not enough players good enough to play for England' because that would be a very sad indictment," Hodgson added.
"I know there are a lot of foreigners in the league, but there's plenty of English ones. There were seven Englishmen playing for Manchester United the other day and they're top of the Premier League.
"I hope I'm not going to be tricked into saying that some time to disguise my disappointment in a defeat or to try and shift the blame to somebody else."
Many of England's players were lambasted for a lacklustre showing at the 2010 World Cup in South Africa, after being knocked out in the last 16 with a 4-1 crushing defeat by Germany.
But Hodgson was adamant the general public needed to appreciate the pressures of performing at the highest level, adding: "I would like to see a little bit more kindness sometimes offered to the players.
"There's no doubt in my mind there are as aware of anybody we need to win, we need to bring something back to the English public. But sometimes if you put so much pressure on these young people there's no doubt they can be hampered by that rather than encouraged.
"And it's that delicate balance of having the expectation which propels you forward because you want to succeed and you want to show people you can meet their expectations or freezing a little bit because you feel, 'whatever I do is never going to be good enough'."
England currently sit second in World Cup qualifying Group H, two points behind Montenegro after four games.
Hodgson said: "We are aiming to finish on top of the group and not have to go through a play-off situation where you can quite easily lose as well.
"If we can't win the group let's hope to God we can come second and give ourselves a chance at least in the play-offs because the goal is to reach Brazil in 2014.
"In an ideal world we would do it by winning the group and sailing through and be ready when it comes around, but there's no guarantee of course that winning the group and sailing through your group stages helps you when you get to the final competition. We've seen that with England."
England went out of Euro 2012 following yet another penalty shoot-out defeat and Hodgson said he liked the idea of taking spot-kicks after friendlies next year to prepare players for the real thing in front of a packed crowd.
When asked if the England job would be his last, he said: "It would be nice to think it could be.
"It would be nice to think I could be in the job for a sufficient period of time when the time comes to an end to say, 'that's been a great career, I've enjoyed it, I'm quite old, now it's time to pass over to younger people'. But it's a dangerous thing to say as well. Football's in your blood."
Hodgson also urged people not to trust everything they read about him.
He added: "I was told by my sister that on Wikipedia I have two sons and I don't know where the other one's come from. And that I'm a great Rolling Stones fan and, with great respect to the Rolling Stones, I was brought up with soul music and rhythm and blues.
"There are a lot of things that can the written about you. Another thing I heard strangely enough was that I'm a harmonica player. Someone less musical than me would be hard to find."