World Cup: Gary Neville calls for England to go on attack against Montenegro
England coach Gary Neville has called on Roy Hodgson's side to be positive against Montenegro.
Last Updated: 13/03/13 4:19pm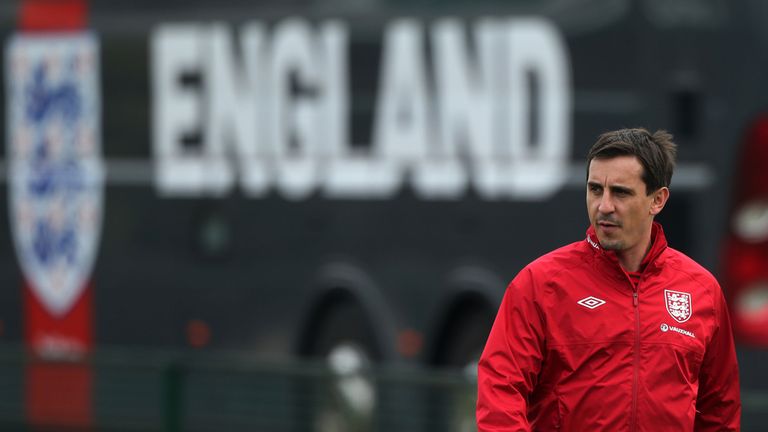 England travel to Podgorica after what looks like a seemingly-routine clash with San Marino as they look to progress further down the road to Brazil 2014.
Former England full-back Neville, however, believes anything less than a mindset focused on recording an away victory would be detrimental.
He said: "I have never looked at any game, either for Manchester United or England, and said I will play for a draw - and I never will.
"That is not the English mentality. We are not Italians, who can grind things out and be cagey for an entire game. We want to be on the front foot. Our mentality must always be to try and win.
"I have watched a lot of Montenegro's games in the last couple of months and it will be a hostile atmosphere, as it always is in eastern Europe.
"It never changes. They are really passionate about their countries. You are talking about countries who have had hostilities around there for 20-odd years. You can feel the passion. There is a fighting spirit amongst them. It will be the same in Montenegro.
"You have to handle the atmosphere in any away ground. It is the first thing you say; let's kill the crowd. Keep the ball and get a goal."
When quizzed on the future of Wayne Rooney, who was dropped to the United bench as they suffered a controversial UEFA Champions League exit to Real Madrid, Neville was similarly adamant.
"Manchester United is the most incredible football club," he said. "There is always a fall-out when something goes wrong. It is never just normal when they go out of Europe. There is always something big.
"It is only when you are on the outside you see how big the club is and the exaggeration that surrounds it.
"Wayne Rooney gets left out of one match and all of a sudden he is out of the club and people are pointing back to all sorts of historic occasions. I take the manager at his word.
"Why would Wayne Rooney want to leave? He is a big player for everybody and both of them seem to fit each other."