England goalkeeper Joe Hart doesn't want a World Cup slip-up in Montenegro
England can take a big step towards qualifying for the World Cup finals if they beat Montenegro, says keeper Joe Hart.
Last Updated: 24/03/13 12:09am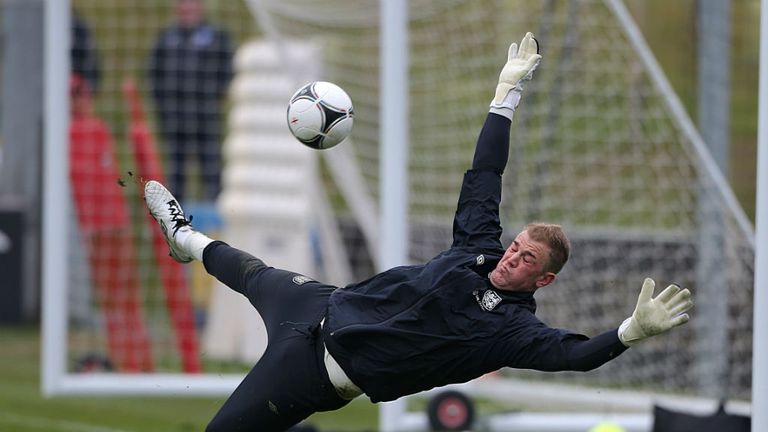 Roy Hodgson's men could fall five points behind Montenegro or one point clear at the top depending on whether they win or lose in Podgorica.
England have painful memories of the stadium - 17 months ago Wayne Rooney was sent off and they blew a 2-0 lead in a Euro 2012 qualifier, the hosts forcing a 2-2 draw.
Hart, who was a virtual spectator during Friday night's 8-0 win over minnows San Marino, said: "Tuesday is big, an exciting game for us. We are getting closer to the World Cup finals.
"We've got to perform. Maybe we could be accused of taking our foot off the pedal as we let a 2-0 advantage slip away last time against them when we needed just a point.
"That is not going to be the case this time. We've got a job on our hands in an intimidating arena, but we've definitely got the capabilities.
"We go there with the intention of doing well against a good nation.
"Brazil is a long way off, and I'm not going to get carried away thinking about that, but hopefully with a few wins we can start doing that.
"I treat all games the same. Just because I might have had little to do on Friday, I'm not going to be asleep on Tuesday.
"It's the same build-up, same hype, same adrenalin, whoever you play against."
Midfielder James Milner remembers an intimidating atmosphere in Podgorica, and he says the England players will thrive on that.
He said: "These are the sort of games you enjoy playing in, with the crowd on your back, and when you are getting a lot of stick.
"We will know it well from having been there before. It will be tough. It is never easy qualifying for a major tournament.
"We know Montenegro are a good team and they showed that in their qualifying campaign. But we are thinking positively."