Sepp Blatter wants to switch Qatar 2022 World Cup to the winter
Sepp Blatter hopes the FIFA executive committee will move the 2022 World Cup in Qatar to the winter.
Last Updated: 18/07/13 12:03am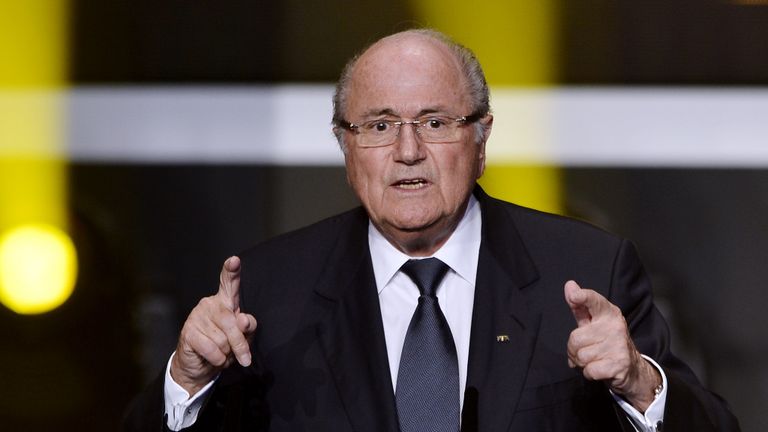 Concerns have been raised about temperatures in the Gulf state which can reach 50°C in the summer and FIFA president Blatter wants the tournament to be rescheduled, despite plans to stage games in air-conditioned stadiums.
"There is still enough time. I will bring this up to the executive committee," he said.
"If this World Cup is to become a party for the people, you can't play football in the summer. You can cool down the stadiums, but you can't cool down the whole country."
Switching the tournament to the winter would create serious upheaval in domestic leagues throughout Europe, but Blatter insists FIFA must make brave decisions.
He said: "We have to have the courage - that is FIFA's executive committee - to play this World Cup in the winter and to start to work out now what impact this will have on the international calendar.
"It would only be for one year, afterwards you'd be back to the normal routine. But I will advocate that."
Former FA chairman David Bernstein expressed dismay about suggestions that the competition could be moved.
Speaking last month, he said: "My personal view is that it would be a case of a false prospectus if the 2022 World Cup in Qatar was switched to the winter.
"It is a serious matter, bidding for the World Cup, and countries including ourselves spent huge amounts of money bidding for the tournament.
"The bid was for the World Cup to be played in June and July and for it then to be moved to the winter would be fundamentally flawed. If people want it in the winter, they should bid for it on that basis."