Sepp Blatter expects 2022 World Cup to be switched from summer
President Sepp Blatter expects FIFA to switch the 2022 World Cup in Qatar from summer to either winter or spring.
Last Updated: 25/08/13 6:30pm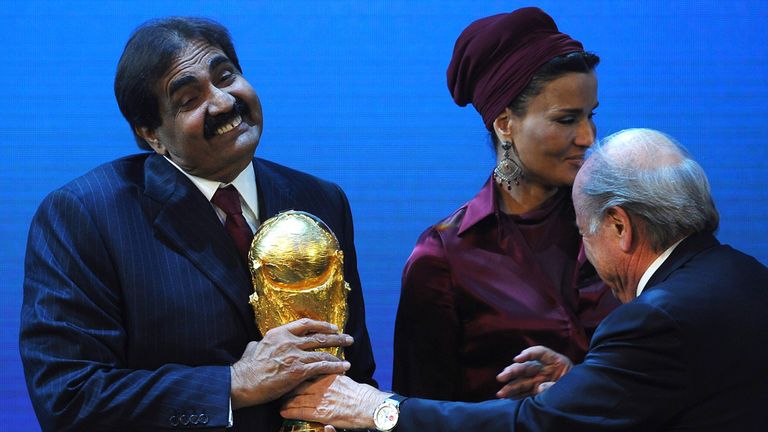 Blatter said FIFA's executive committee will almost certainly confirm the move - to avoid the heat of the Qatar summer - when it meets in Zurich on October 3.
"I would be very much surprised, more than surprised, if the ExCo will not accept the principle you cannot play in summer in Qatar," Blatter said. "What will be following, this would be then decided later."
Blatter admitted any switch in the timetable would have to be taken after consultation with leagues, clubs, national associations and players, through their international union FIFPro.
The tournament is currently due to take place in June and July when temperatures routinely rise above 40 degrees.
When the decision was made, the World Cup organising committee expressed confidence that air-conditioning in the stadiums would reduce the pitch-side temperatures to 27 degrees.
But FIFA and Blatter have slowly been backtracking on that position in recent months.
Now, some of the same FIFA board members who helped choose Qatar in a decisive 14-8 vote over the United States, are set to switch the tournament hosting plan.
"Those that have taken the decision at the time, they knew there is problems with the heat. They knew it, because it was in the (technical) report," Blatter said. "It was wrong to say, 'Now we have to play in summer,' because in summer you cannot play there."
"Therefore the ExCo now shall take the decision and they will take it that in summer you can't play in Qatar."
Blatter has previously suggested November as a possible start for the month-long tournament while recent speculation has focused on May. A January-February slot is unlikely because of a clash with the 2022 Winter Olympics.
"What will be the ongoing situation with such a decision, we have to look on the international calendar," Blatter said. "We have to look if and how it is possible, when we don't play in summer, when is the best time to play?"