England boss Roy Hodgson claims he doesn't have big selection pool
England coach Roy Hodgson has refuted claims that he has 200-plus players to select from for national duty.
Last Updated: 01/09/13 11:39am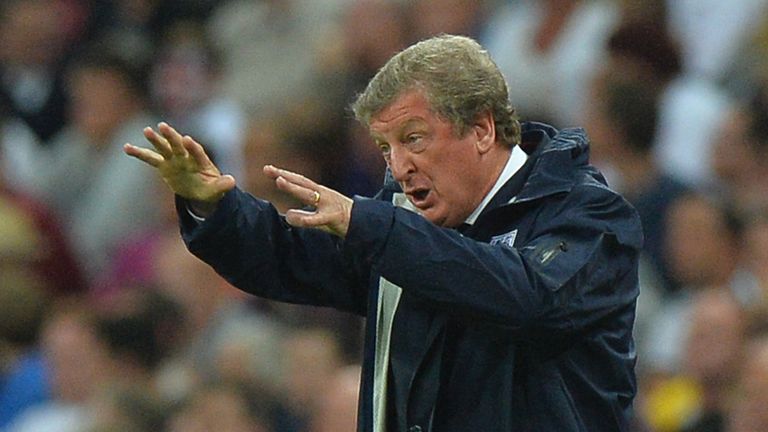 Premier League chief executive Richard Scudamore recently hit back at claims that an influx of foreign talent into the English game is responsible for the failings of the national team from the seniors, through the U21s and down to the U20s.
He said it was 'nonsense' to place the blame at the top flight door, with there '210 players qualified to play for England playing in the Premier League last year'.
Hodgson strongly rejects those claims, reiterating his belief that the player pool continues to shrink at the very highest level.
He feels not enough English talent is being given an opportunity to flourish by the top clubs in the country, with a lack of movement in the summer transfer market involving English players helping to highlight his point.
He said in The Sunday Telegraph: "Well, maybe there aren't that many good English players to buy.
"I think this is a very nuanced discussion and quite often, I'm not impressed by the paucity of thought and research that has gone into it.
"I saw a TV programme the other day talking about there being 240 English players in the Premier League. In that case, they must be including a lot of players I have never heard of then. I can't name that many.
"When we're talking about players who could play for England, we're talking about starting players for their clubs' first XI, or players like Ross Barkley or Raheem Sterling, who are already so good that their coaches are pretty keen to get them onto the pitch.
"I would defy any of you to come up with 240 names. I don't think, quite frankly, you'd be able to come up with 30 or 40."
Debate
Hodgson stated that '30 or 40' was clearly an exaggeration, but points to Tottenham Hotspur starlet Tom Carroll as a perfect example of how promising youngsters are being held back - with the 21-year-old midfielder included in England's U21 squad but yet to hold down a regular role at Spurs.
He added: "I've worked at Fulham and West Brom and Tom would probably have played in both of those sides. But he doesn't play for Tottenham. Is that their fault? No, not really.
"I'm not criticising the judgement of the coaches. These players are too good to let go but they are finding it hard to get games.
"We have to find a way of making certain we don't dismiss these players and we don't lose them. As a nation, we must hope that their lack of games will not destroy their careers, because it could happen.
"If you go two years where you're too good to let go, but not good enough to play every week, you might not be a good player at the end of it. That's where the debate should lie."