World Cup qualifying: Frank Lampard says England can deny 'strong' Ukraine
Frank Lampard says Ukraine are "strong" but is sure the England team that lines up in Kiev on Tuesday can get a result.
Last Updated: 08/09/13 7:27pm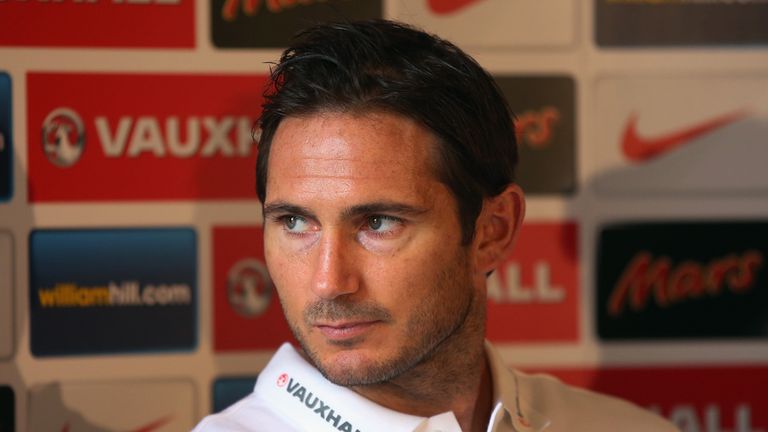 England drew 1-1 with Ukraine came when they came to London last September and Lampard knows he and his team-mates will have to improve on that Wembley display this week.
"They had a bad start to the group but against us they played with a lot of talent, they have a lot of technical ability and pace on the wings," Lampard told a press conference on Sunday.
"I don't think we were at our best that night but to not lose when you're not at your best is a good thing.
"We'll go there conscious they're a strong team but confident in our own abilities. We've got the team to get a result, no doubt."
England will be without Danny Welbeck, Daniel Sturridge and Wayne Rooney in Kiev, and the absence of the former will be most keenly felt, according to Lampard.
"It's a big blow. He's started the season well and he's a very talented player," said Lampard of Welbeck.
"I've enjoyed watching him for Man United and he scored two goals the other night, but we've got players who can come in and do the same job.
"With Theo Walcott, Raheem Sterling, Ashley Young and James Milner, we've got a lot of depth on the wings."
Tough group
England lead Group H on goal difference from Montenegro, with Ukraine only a point behind and Poland five points adrift.
Lampard said: "We were very aware it was a tough group from the outset.
"People can dismiss a group when they don't see a Spain or a Germany, but we were aware there were some tough teams there.
"We've got to go out on Tuesday and get a result. It's in our own hands with two home games to come after that.
"We've got two tough home games to come, but I think if we can fly back with three points, then we're in a very strong position to go through."
Lampard will be the eigth England player to reach the milestone of 100 caps if, as expected, he features on Tuesday.
Peter Shilton currently holds the record for the most capped player with 125 appearances.
David Beckham is the highest capped outfield player with 115 while, of the current crop, Ashley Cole and Steven Gerrard have also members of the 100 club.
"I will be very proud if I get on the pitch because it's been a long time but it wouldn't be enjoyable to reach 100 and get the wrong result," Lampard added.