Jonny Evans hopeful for Northern Ireland future ahead of World Cup qualifier in Luxembourg
Jonny Evans has set his sights on a place at Euro 2016 after taking encouragement from Northern Ireland's performances.
Last Updated: 08/09/13 7:47pm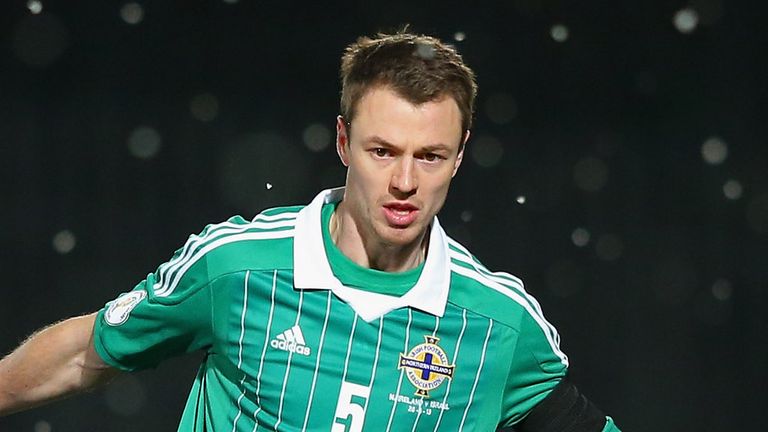 The side may have won just one of their seven matches in Group F, a shock success over Fabio Capello's Russia, but the mood around the team has been positive under Michael O'Neill and two strong showings against Portugal - a 1-1 draw in Porto and Friday night's unfortunate 4-2 defeat - offered further optimism.
Hopes of a place in Brazil next summer may have gone but Evans has raised the prospect of a real challenge for the European Championship in France, when the number of participating teams increases from 16 to 24.
"The extra teams are qualifying in the next campaign and that gives us a big incentive," said the Manchester United defender.
"We need to go back to this campaign, finish as strong as we can and put points on the board. That might have an effect on the seedings and the draw for the next qualifying campaign.
"We're in a good place as a squad. It feels like we have things worked out a bit and if we can continue in that fashion there is that wee bit of hope.
"There is a good spirit among the squad. You hear people saying 'we enjoy it' but we actually are enjoying it. It's a good atmosphere."
Having competed well against more illustrious opponents in their last two matches, Tuesday night represents a different type of challenge.
Although they are away from home, Northern Ireland will be expected to see Luxembourg off at the Stade Josy Barthel - the kind of task they have struggled with in recent years.
Indeed, the reverse fixture ended in a 1-1 draw thanks to a late Luxembourg equaliser.
"It won't be bigger in terms of publicity as Portugal - beating them at home would have people talking about great nights at Windsor Park - but these are the games we haven't done as well in, against teams at the same level as us or below," he said.
"The onus is on ourselves, you get a lot more time on the ball.
"There is that pressure if we don't produce or if we don't score early, but if we stick to what we did well against Portugal, no matter what the opponent, I think we'll be fine."