Tottenham and England's Kyle Walker avoids FA disciplinary action over 'legal high'
The Football Association has said Tottenham's Kyle Walker will not face disciplinary action for taking a 'legal high'.
Last Updated: 09/09/13 6:44pm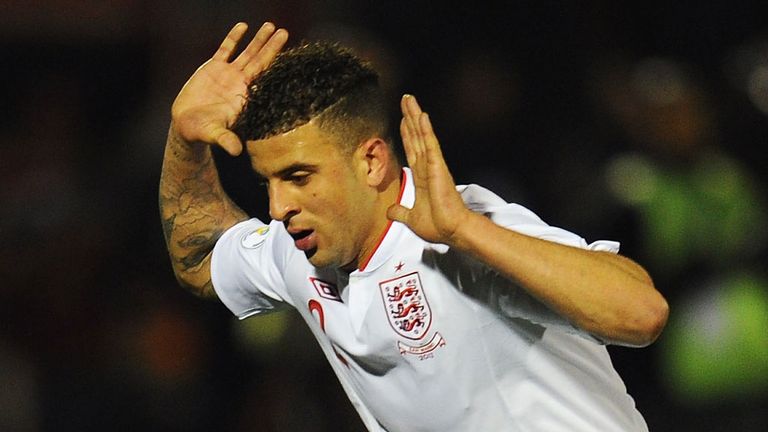 Walker, currently with England on World Cup qualifying duty, was the subject of front page headlines on Sunday after photographs emerged of him taking the 'legal high' nitrous oxide - inhaling it from a balloon.
The incident took place in his native Sheffield during a night out this summer, and Walker was quick to issue a statement apologising.
"Apologies for not commenting sooner on a story about me today. I've been training and am focused on Tuesday's game for England," he said via his Twitter account.
"Now I know the health risks, it was poor judgement on my part.
"I won't be doing this again and hope that no one else is influenced into putting their health at risk by my actions."
Walker was named as the PFA's Young Player of the Year in 2012 and has won seven caps for England since making his debut against Spain in 2011.
The FA said that because his actions were not illegal, he will not face disciplinary action.
A statement from the FA read: "Kyle Walker has expressed his regret for an error of judgement when inhaling Nitrous Oxide earlier this year.
"The FA and the England manager have spoken to Kyle about the matter and he has assured us it will not happen again. Inhaling Nitrous Oxide is not illegal, but we recognise the associated dangers.
"Kyle has accepted this mistake. He will not face any action under the England Player Code of Conduct.
"The FA and England manager will not be making any further comment on this matter and will be focusing their full attention on Tuesday's match with Ukraine."
You can see England's news conference with Roy Hodgson and Steven Gerrard at 5.00pm on Sky Sports News