World Cup: Roy Hodgson defends England after Ukraine draw and surprised by critics
England boss Roy Hodgson has defended his team after their 0-0 World Cup qualifying draw in Ukraine on Tuesday night.
Last Updated: 11/09/13 2:53pm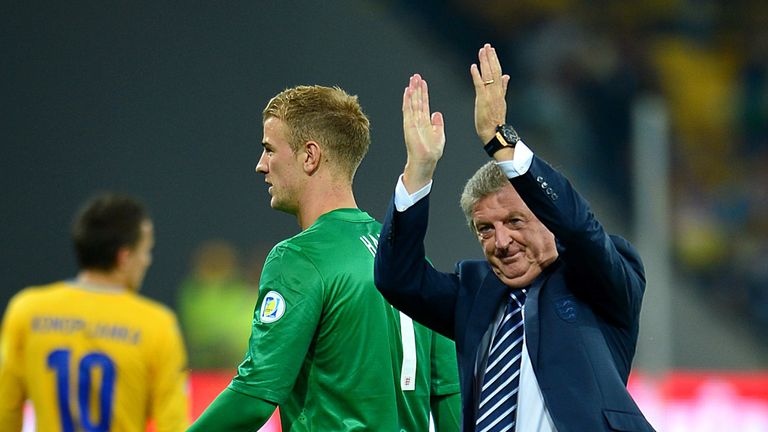 The Three Lions went a point clear at the top of Group H with the draw to remain on course for next summer's tournament in Brazil with two games remaining against Montenegro and Poland next month.
But the style of England's performance has been criticised by some former players, particularly the number of long balls and the struggle to keep possession.
However, Hodgson was happy with the point and defended his team at a press conference after the game.
He said: "If the expectations upon us are going to get so great that even when we come to places like the Ukraine we're going to be expected to roll all over them, then it's going to be very difficult for us in future to ever get a good result.
"So I'll stick to my guns - I thought it was a good result. I am surprised that that hasn't been the reaction back at home, but then again, who are we talking about? There is 60 million people back there so I always find that a difficult one to answer.
"And it seemed to me that before coming to the game, the feeling was certainly amongst you people (journalists) that a draw here would have been a good result.
"So I'm a bit surprised to hear all of a sudden, what I thought was a good performance, a good result, suddenly become yet again, an underwhelming performance."
Jack Wilshere was not at his best and was replaced by Ashley Young in the 67th minute, but Hodgson gave his backing to the Arsenal midfielder.
He said: "Jack obviously is still looking for full fitness. As a result, in the second half we felt the need to take him off.
"Obviously we saw a much more effective Jack against Moldova than tonight, but he certainly did his work and all the things I asked of him tactically."
While he was delighted that England managed to keep their destiny in their own hands, Hodgson admitted after the match that there was now little margin for error.
"It is still very tight," Hodgson said.
"We knew a victory would put us in a good position and a draw would maintain our leadership and make certain going into the last two matches at Wembley we have our fate in our hands.
"I am more than happy we go into these last two games at Wembley top of group and have one more point than rivals. That is positive as far as we are concerned."
Fair result
Hodgson felt there could be no complaints from either side after a goalless stalemate, although he was left to rue a late miss from Frank Lampard on his 100th international appearance.
"I thought it was a fair result, we did very well, especially in the first-half and we had clear control of the game and could have obviously won it in the last minute with Frank's header, what a chance," Hodgson said.
"But Moldova and this game are two were very different games, there were 70,000 people here, it was a big test for the players.
"We have lost seven players from the original squad so a lot of players come into the squad this time who are not normally there and not used to this level of performance and pressure.
"So we have got be more than satisfied with the result against Moldova and now the result here, especially as we gained the result without riding our luck in any way, we gained it because we were very good defensively.
"Had we shown a little more composure in the final third or had someone like a Rooney or Sturridge available, who knows we might have even got the goal we needed."