Italy's Mario Balotelli sets sights on long run at 2014 World Cup
Italy striker Mario Balotelli believes his side has the quality to go far at the 2014 World Cup.
Last Updated: 11/09/13 3:17pm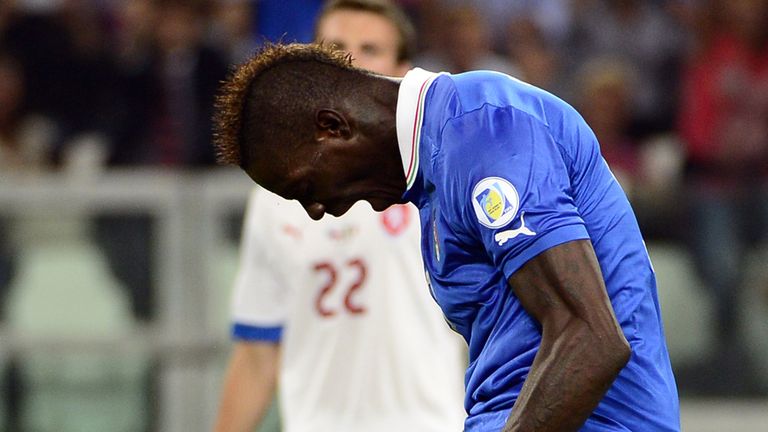 The Azzurri on Tuesday night joined Holland as the only European sides to have so far booked their ticket to next year's tournament in Brazil.
Cesare Prandelli's side beat the Czech Republic 2-1 in Turin, courtesy of a Balotelli penalty, to qualify with two games to spare.
"I think we will be among the favourites (in the World Cup)," Balotelli told Gazzetta dello Sport.
"There are still one or two teams that are above us, but they should fear us, not the other way round."
The four-time world champions have qualified in style. Italy remain unbeaten in Group B and are seven points clear of nearest rivals Bulgaria, who beat Malta 2-1 on Tuesday.
The Italians have now won six of their eight qualifying matches, scoring 15 goals and conceding just five times.
"We are a good group," the 23-year-old Balotelli said. "We are becoming a very strong team that is united and we are able to come out of difficult situations."
Italy's fighting spirit emerged against the Czechs as the Azzurri trailed 1-0 at half-time with Balotelli having hit the crossbar and missed several goalscoring opportunities.
"He (Balotelli) will probably never miss those chances again in his career!" joked Italy defender Giorgio Chiellini, who scored the Azzurri's equaliser.
"It was strange to see him miss, so we were starting to fear it was a cursed game.
"But Mario is such a decisive player and he proved that against the Czechs."
Balotelli was also surprised at his lack of sharpness early on.
"We played well in the first half and had lots of opportunities to score," the AC Milan frontman said.
"I have never experienced missing so many clear-cut chances as in this game.
"I was unlucky but in the end we were rewarded."
Balotelli was finally able to beat Czech goalkeeper Petr Cech after he earned and then converted the spot kick to bring the Juventus stadium to life.
"I thank the fans and compliment them for their support," Balotelli said. "I wasn't expecting such a nice reaction."
Italy take on Denmark on October 11 before ending qualifying at home to Armenia four days later.