England coach Roy Hodgson hopes Steven Gerrard doesn't quit international football
England coach Roy Hodgson is not worrying about the prospect of Steven Gerrard retiring from international football.
Last Updated: 15/09/13 6:10pm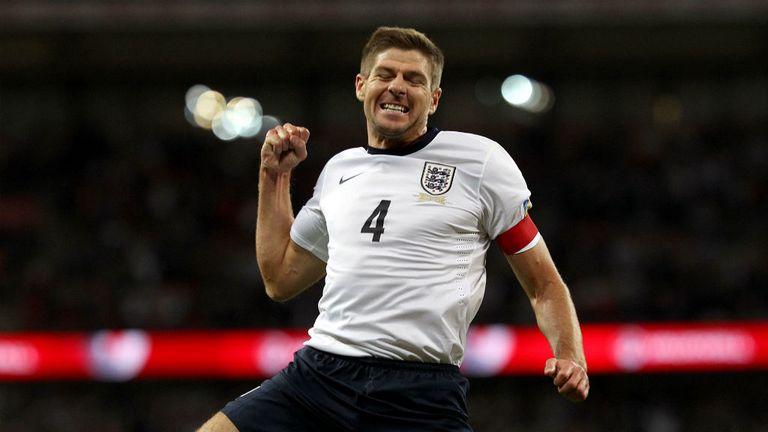 Liverpool midfielder, Gerrard, suggested last month that the finals in Brazil would likely be his last tournament, providing England can secure qualification.
However, Hodgson is not giving up hope that the 33-year-old will decide to carry on with England, along with other long-standing members of the squad.
"It is easy for players to talk about retiring in a year's time," said Hodgson. "I have fallen into that trap myself on several occasions. When the time rolls around you realise you don't actually want it.
"Let's wait and see with Steven. I know he gives these interviews and people write these things but I just bat them off.
"The most important thing is for England to be at the World Cup. Then I am rather hoping Gerrard, Ashley Cole and Frank Lampard will still be available. If afterwards, for some reason, they aren't, we will re-assess."
Gerrard played in a slightly deeper midfield role during England's recent World Cup qualifiers against Moldova and Ukraine, and Hodgson is convinced it is the position he is best suited to.
"I have always, to some extent, questioned Steven as an out-and-out attacking player because he has such energy," said Hodgson.
"He really is a box-to-box player so if you take him away from the build up from the back, sometimes you are not getting the best out of him.
"I thought that when I was at Liverpool. I made that decision then."
Gerrard's performance in the 0-0 draw with Ukraine in Kiev was overshadowed by those of defensive duo Gary Cahill and Phil Jagielka.
Indeed, after spending so much of his reign discussing controversies surrounding John Terry and Rio Ferdinand, it is a relief for Hodgson to have another centre-half to talk about.
"My year and a bit has been about two outstanding footballers, John Terry and Rio Ferdinand," said Hodgson.
"People have questioned whether the alternatives I do have available could reach their level.
"They have grown into the role. I would say if Gary and Phil could continue what they are doing at the moment in years to come you might be talking about them in the same way as you have been talking about John and Rio.
"I was happy with them against Moldova, where they had to take a lot of responsibility and make an awful lot of passes, and I was happy with them against Ukraine because they were up against a very dangerous front three."