World Cup: FIFA medical chief says 2022 Qatar tournament should switch to winter
FIFA's medical chief says the 2022 World Cup in Qatar should be moved from summer to winter.
Last Updated: 19/09/13 12:14pm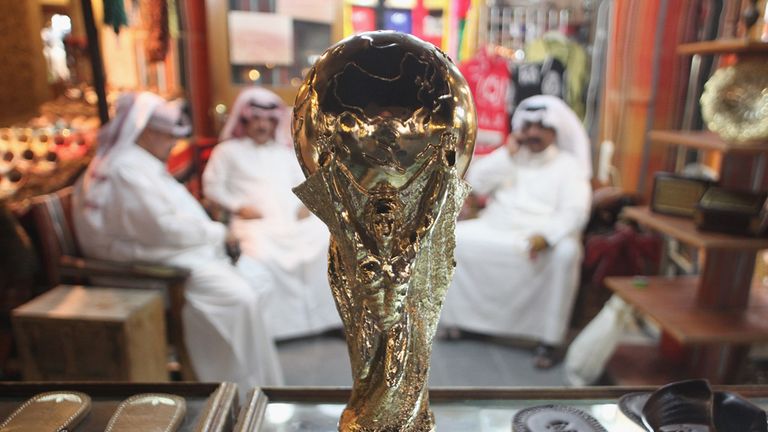 Michel D'Hooghe, chairman of FIFA 's medical committee, says he will advise next month's crucial executive committee meeting that putting the tournament on during the Middle East summer poses a risk to the health of supporters, as well as players.
The committee is now expected to agree in principle to move the World Cup to the winter, most likely in November/December 2022.
The European leagues and the US representative want to delay the decision so they can analyse the impact on their competitions.
D'Hooghe said: "My position is very clear. From the medical point of view I think it will be better not to play during the hot summer months.
"I am sure the Qataris could organise it when they have such technical skill, and I know they could play and train in a stable, acceptable temperature.
"But the World Cup is more than about games and players - I have done eight World Cups so I know a bit about it.
"A World Cup is about the 32 delegations, it's about the whole FIFA family and the 12,000-15,000 media working very hard, and most importantly it's about the fans.
"They will need to travel from venue to venue and I think it's not a good idea for them to do that in temperatures of 47 degrees or more."
D'Hooghe believes the European leagues have plenty of time to resolve the problems that a winter World Cup would cause them.
He said: "It's a technical question - I'm a medical man. I think we have nine years to sort it out.
"I respect the difficulties that there may be with some championships. I just have to give the medical advice and for the rest it would be a good thing to get everyone around the table to find a solution."
Sunil Gulati, who was the head of the USA 2022 bid that was defeated by Qatar in the vote three years ago, believes they need more information before taking a decision.
He told the New York Times: "I don't see at this stage, frankly, how I or any member of FIFA's executive committee could make a sensible decision.
"We don't have enough information, and there are too many questions. I don't see how anybody in a position of responsibility can take a position without some answers.
"If the position I'm taking - which is that we need a lot more information - is rocking the boat," he said, "then I'm going to be rocking the boat."