FIFA delays decision on Qatar until after 2014 World Cup but sets up task force
FIFA has delayed a decision on moving the World Cup in Qatar to winter until after next year's tournament in Brazil.
Last Updated: 05/10/13 8:01am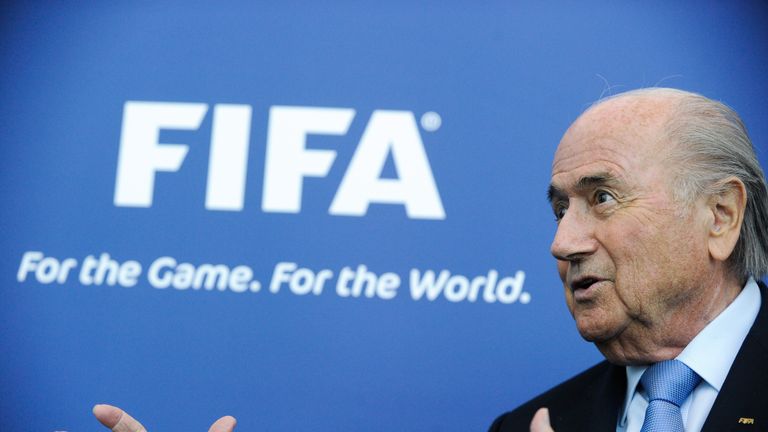 The world governing body's executive committee held a two-day meeting in Zurich to debate a controversial proposal to shift the 2022 showpiece from the summer months to avoid the extreme heat.
But, with president Sepp Blatter keen on a consultation period before confirming a switch that has extensive domestic ramifications, officials have agreed to first set up an investigating body.
The commission, announced by Blatter at a press conference in Zurich on Friday, will draw members from across the game but is not expected to rule on the proposition until 2015.
Blatter, who insisted Qatar's host nation status was not in doubt, said: "The FIFA World Cup 2022 will be played in Qatar. There you have it.
"We have decided we are going to carry out consultations. These will include all the participants in the World Cup and stakeholders including players, clubs, leagues, national associations confederations and FIFA.
"There are also economic partners involved be they from marketing, the media and television and we need to bear in mind our obligations to these partners.
"We need to carry out very deep consultations and investigations and show some diplomacy and wisdom."
Qatar organisers insist special cooling technology means they can hold the event any time of the year but stifling temperatures outside the stadia remain a worry and UEFA's 54 member associations last month agreed to a move in principle.
The exact timing of a winter tournament appears to be the major sticking point, with FIFA preferring a November/December World Cup but UEFA president Michel Platini championing a January tournament that would not clash with the Champions League.
The November/December plan has also emerged as the favoured option of the Premier League.
Such a timeframe would allow the traditional club Christmas programme to take place as normal, and interfere less with the final few months of the season than a long break in January and February.
Aside from the timing of the tournament, the executive committee also discussed an investigation into the mistreatment of migrant workers in Qatar, and Blatter confirmed he would visit the Middle Eastern country to raise his concerns in person.
"I will go with a delegation in the name of the ExCo of FIFA for a courtesy visit but it is also a visit to confirm the World Cup 2022," he added.
"But I will also touch on this concern, which concerns many people in the world, and that is the working conditions in that country, but we can't be the ones who can change it.
"It is a responsibility not only for Qatar but the construction companies, and there are many European companies working there. We cannot turn a blind eye but we cannot make a direct intervention - but the Qatar government have confirmed they will do so."
Meanwhile, former FA chairman Lord Triesman has described the Qatar World Cup quandary as a "mess that never should have happened".
"They were always going to be challenged over holding a World Cup in Qatar - and in the middle of the summer - and everybody must know that the temperatures there are absolutely searing," Triesman told Sky Sports News.
"Whatever they say about the air conditioning in stadia, you can't air condition the fan parks and you can't keep the spectators (sufficiently cool) to enjoy themselves.
"There are a number of really difficult issues to address and I can imagine they haven't got the answers to more than a small proportion of them.
"What they must have known when they voted for it, although some people will say they didn't appreciate how hot it was, was that this searing heat wasn't practical. They must have known for some time they would have to consider the winter.
"They will have to deal with all the football that will have to be postponed or moved across the winter in the northern hemisphere, they'll have to deal with a number of sports in other countries and they'll have to deal with the nations who believed they were bidding for a summer World Cup in 2022, only to find that maybe the rules have been changed. All of those will be very aggrieved people.
"It's a mess that never should have happened. We knew the facts in advance."