World Cup qualifiers: Jack Wilshere does not want Adnan Januzaj to play for England
Jack Wilshere does not want to see Manchester United teenager Adnan Januzaj being brought into the England squad.
Last Updated: 09/10/13 5:26pm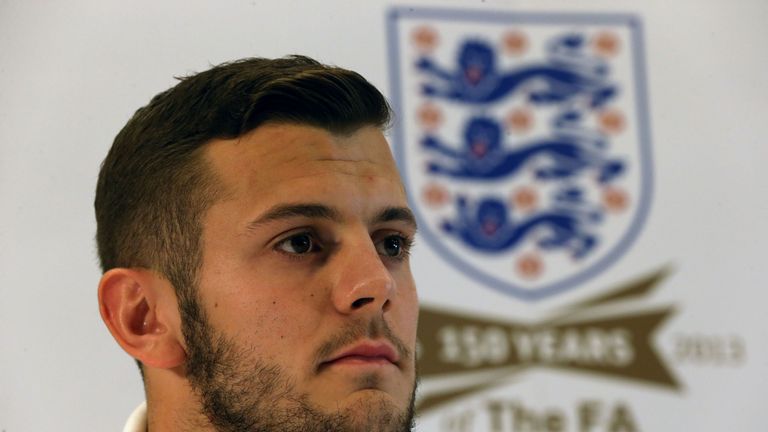 Januzaj could eventually be eligible for England through residency, having so far opted not to commit to any alternative, as the 18-year-old joined United in 2011 and would qualify if he remained in the country until February 2018.
It seems unlikely that is the path Januzaj would choose to follow given he was born in Belgium and is also available for Serbia, Albania and Turkey, as well as Kosovo, although they are not an officially sanctioned FIFA country.
However, Arsenal midfielder Wilshere is uncomfortable with the mere prospect and said: "The only people who should play for England are English people.
"If you live in England for five years it doesn't make you English. If I went to Spain and lived there for five years I am not going to play for Spain.
"We have to remember what we are. We are English. We tackle hard, are tough on the pitch and are hard to beat.
"We have great characters. You think of Spain and you think technical but you think of England and you think they are brave and they tackle hard. We have to remember that."
Following the departure of their second continental manager - Fabio Capello - ahead of Euro 2012, the FA are reported to have ignored an approach on behalf of Pep Guardiola, so keen were they to install an English replacement.
Wilshere backed that move, even though he admitted he has plenty to thank Capello for, adding: "Don't get me wrong, Capello did a lot for my England career.
"He brought me here, gave me my debut and stuck with me from a young age so he was a good manager. But I think it would be better if there was an Englishman."
Januzaj has never expressed a desire to represent England and, purely on football grounds, it would appear a fairly straightforward decision to choose Belgium, who have so many good players at their disposal and look set to book their own World Cup berth over the coming days.
The situation is not clear cut though. There have been plenty of non-English born players who have worn the Three Lions, whilst of the present Under-21 squad, Raheem Sterling was born in Jamaica and Wilfried Zaha in Ivory Coast.
"It's a difficult one," admitted England U21 coach Gareth Southgate. "He (Januzaj) has not played for anyone else.
"We have lots of boys in our squad who were not born here, whose families have fled here.
"There are some wonderful stories and they are all incredibly proud to play for England. I'm torn with it. The world is changing. People move and work abroad.
"It is important to know why someone wants to play for you. We seem to have embraced the cricket team that has won the Ashes but it is a really interesting, philosophical debate."