Phil Jagielka says Joe Hart has 'full backing' of England squad
Phil Jagielka says England's defenders have total confidence in keeper Joe Hart ahead of their key World Cup qualifiers.
Last Updated: 09/10/13 9:02am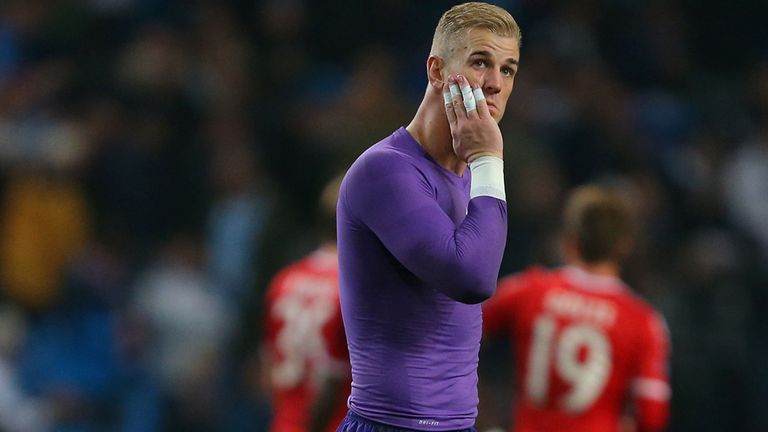 Hart has been in patchy form this season and for the first time in three years his position as England's No.1 has been questioned.
The Manchester City star has made notable errors in recent matches with Cardiff, Aston Villa and Bayern Munich.
But Everton defender Jagielka revealed that far from keeping a low profile, Hart has been happily joining in the jokes during training at St George's Park.
"Joe wouldn't want to tiptoe around the issue, he loves the banter more than anyone," Jagielka said.
"You just throw the odd comment in. You're losing 10-9 to him at table tennis and I'm waiting for the next point, and you just say 'Bayern Munich' or something.
"That's just the kind of thing you do. He gave me some back because City beat us 3-1 at the weekend so I didn't have a leg to stand on.
"Joe's a great guy and a fantastic goalkeeper and if he can take it like he has done all the power to him."
Hart will have to be at his best on Friday when England host Montenegro and then again four days later for the visit of Poland.
Jagielka will line up in front of the Manchester City man and he has no doubt about the 26-year-old's ability.
"There is no question in my mind how Joe will react and how he will perform," he said.
"He is a fantastic goalkeeper and a fantastic lad. If he does make a bad decision the ball ends up in the back of the goal - he knows that is part of the territory for him.
"He sets massively high standards for himself and when it doesn't go for him people are quick to jump on his back.
"He knows he has the full backing of the whole squad and I am sure he is delighted to be here and he is looking forward to playing."