England captain Steven Gerrard says there was no text from him to Harry Redknapp
Steven Gerrard has denied texting Harry Redknapp to say he hoped the veteran boss would become England manager.
Last Updated: 11/10/13 7:25am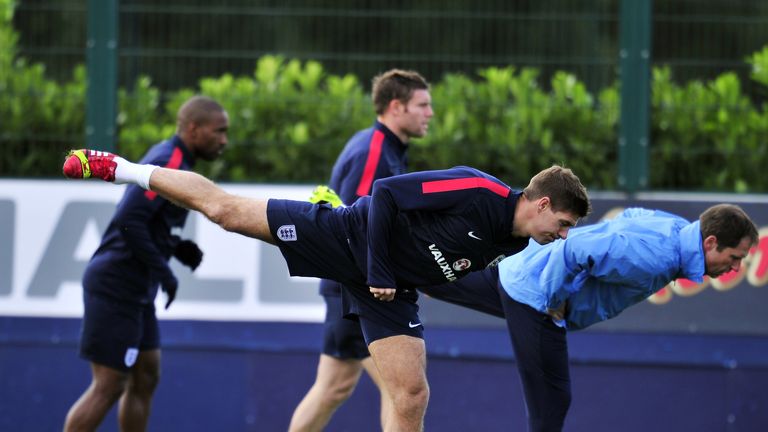 Redknapp, now in charge at QPR, was heavily linked with the England post when he was managing Tottenham, only for Roy Hodgson to be appointed in the wake of Fabio Capello's departure.
And, in excerpts from his autobiography which have been published this week, Redknapp wrote: "All the senior players seemed to be up for me to get the job.
"I got quite a few text messages at the time from players saying they would love me to manage England: Steven Gerrard, Wayne Rooney, Rio Ferdinand, John Terry."
However, speaking ahead of England's vital World Cup qualifier against Montenegro on Friday, Gerrard said: "I can clear it up. I didn't text Harry Redknapp's personal phone, I have never had his personal number.
"But I am a big fan of Harry's and close friends with Jamie (Redknapp's son, a former Liverpool and England midfielder).
"I had a conversation with Jamie round about that time when Harry was on everyone's lips. He was the favourite and it was only a matter of days before he was going to be manager.
"I said to Jamie on the phone 'send the best to your dad and, if he gets the job, we'll all back him and we'll support him'.
"Very soon after that, the FA decided that Roy Hodgson would be the next manager and I think, from the first conversation I had with Roy, I tried to back him and give him my best, and I was absolutely delighted he got the job.
"I've worked with him before, he made me captain, and I think I've played my most consistent football under Roy, so I've got a lot to thank him for."
His prerogative
Redknapp also wrote in his book that English football was run by "people who really haven't got a clue".
He added: "I wouldn't trust the FA to show me a good manager if their lives depended on it. How would they know?"
The comments were seen by some as a veiled attack on Hodgson but the England boss said: "I don't necessarily see that as a criticism of me. It might be intended to be, but I didn't read it that way.
"I don't really have any comments to make on what people say in their books, they're entitled.
"It's his book, it's his life story. It's his prerogative if you like, to say what he thinks in every situation he's found himself in but, as far as I'm concerned, it really has nothing to do with me whatsoever."
England face Montenegro and then Poland next Tuesday, both at Wembley, knowing a pair of victories will guarantee their participation in next summer's World Cup in Brazil.
And Gerrard will equal the great Bobby Charlton's tally of 106 England caps when he takes the field on Friday night.
The Liverpool midfielder said he was "very proud" to equal Charlton's mark and that "these games are up with the most important in the 105 I've played".