World Cup qualifiers: Republic of Ireland's Robbie Keane in race to face Kazakhstan
Robbie Keane will be given time to prove his fitness ahead of the Republic's final World Cup qualifier.
Last Updated: 13/10/13 5:48pm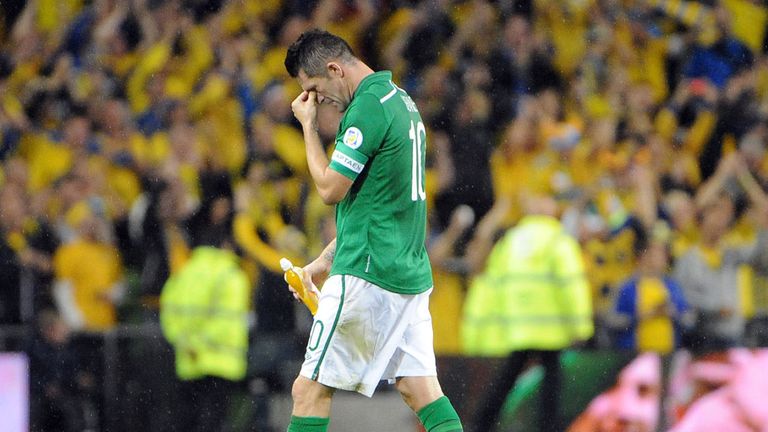 The 33-year-old striker, who missed Friday's 3-0 Group C defeat in Germany with an ankle problem, will need to train on Monday if he is to stand any chance of winning his 130th senior cap on Tuesday night at the Aviva Stadium.
Interim manager Noel King said: "Robbie is still recovering, hopefully. I don't think he will train (on Sunday) but hopefully (on Monday) he will do a full stint.
"I am hoping he is fit for selection."
Celtic's Anthony Stokes, who played the lone striker role in Cologne, is likely to keep his place if Keane fails to make it.
King's resources have at least been boosted by the return of defenders Richard Dunne and John O'Shea from suspension.
"They are all good and looking forward to it," King added. "It's good to see them in and added to the squad.
"We will do a little bit of training (on Sunday) afternoon and we will see. There are a few tired legs, a few tired bodies, few tired minds, and there's a few anxious and fit-as-a-fiddle minds as well, so it's a combination of things we have to deal with."
Ireland run out at the Aviva Stadium against Kazakhstan hoping to end a disappointing campaign with a win which would be a feather in the interim manager's cap.
Asked how he had found the experience, King added: "Daunting, I suppose. I think
I am enjoying it to a degree - I'll let you know after Kazakhstan.
"It's different. It's a great experience. I wouldn't trade the German night for anything, that was amazing.
"I haven't read too many of the papers, but I don't mind debate, I love debate - 'Why did you not bring on a sub?', 'Why did you bring on a sub?', 'Why did you play that way?', 'Why did you not play that way?' - I don't take offence at that, I love it.
"It's all about trying to find and develop the right way - and when you win, you are so wise; when you lose, you are so stupid."