Roy Hodgson insists no complacency in England squad ahead of Poland showdown
Roy Hodgson has given his assurance that there's no complacency in the England squad ahead of their clash with Poland.
By Graeme Bailey - Tweet me: @graemebailey
Last Updated: 14/10/13 12:04pm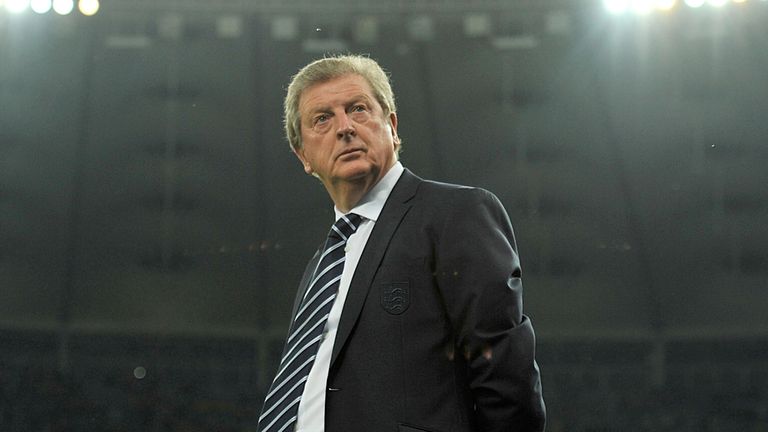 England are a point clear of Ukraine in Group H and will guarantee qualification if they win at Wembley.
Hodgson says the players know the job is only half done, and he had some harsh words for them after they beat Montenegro, so they know where he stands on the subject.
"Sometimes it is easier to be harsh when people have done well - and I was harsh," said Hodgson of his own reaction to victory over Montenegro.
"I was very keen to point out one or two things to them. It wasn't anything celebratory.
"I will say this until I am blue in the face, but the one thing I want to guard against is complacency.
"I don't imagine there will be any and certainly after the things I said to them they will have a pretty good idea where I stand on the subject."
England's infamous failure to beat Poland in 1973 is very much on the minds of the English public, whilst the defeat by Croatia at Wembley in 2007 that cost England a place at Euro 2008 is also still living in the memory.
Hodgson seems set to stick with his youth policy after drafting Raheem Sterling into his squad as cover.
With Tom Cleverley ruled out by a calf injury and Kyle Walker suspended after picking up a booking in Friday's 4-1 win over Montenegro, Hodgson felt he required an additional body.
"If there are any areas in our squad where perhaps an extra type of player could be useful, it is in the wide areas," Hodgson said.
"We will have Danny Welbeck and Andros Townsend, and Tom Cleverley could have played there but he has gone.
"If we need him, Raheem Sterling is the type of player who could do what Andros did on Friday."
With Ashley Cole ruled out by the rib injury that prevented him being in contention to face Montenegro, Leighton Baines will continue at left-back.
Few further changes are anticipated for a game England will be expected to win against opponents whose interest in the competition is over.
Poland will be roared on by 18,000 of their own fans at Wembley, with the Football Association forced to defend its decision to sell so many tickets to away fans.
Under FIFA rules, visiting teams are allowed 10 per cent of the seats available in qualification matches.
Given that Wembley holds 90,000, that entitles Poland to 9,000 tickets but the FA has decided to give the Poles 18,000.
"The FA, working with the Polish FA, have provided 18,000 tickets to Polish supporters," an FA spokesman said.
"With high demand for tickets from the large Polish community in England the FA took the decision, based on safety grounds, to ensure Polish fans were allocated space in a specific area of the ground rather than attempting to buy tickets in home areas.
"Tickets in the home areas have been restricted to previous buyers only, with no tickets now remaining for this fixture.
"This is the same process that was employed for the successful Scotland and Republic of Ireland fixtures earlier this year."
A Polish Football Association spokesman was quoted in several media outlets as saying he expected 20,000 away fans to attend, but the FA insists the number of tickets sold to Poles is 18,000.
It is understood that the FA took the decision to double the Polish allowance in consultation with the police.
England left-back Baines has no problem with the move.
"If it adds to the atmosphere, it is great," the Everton defender said.
"I remember when we played Ghana - and I don't know how many there were there - they were amazing and it just made it better.
"If these away fans add to the atmosphere the home fans are going to produce, then it just adds to the occasion."