IFA president Jim Shaw wants Michael O'Neill to stay on as Northern Ireland manager
IFA president Jim Shaw has insisted he wants Michael O'Neill to continue as manager of Northern Ireland.
Last Updated: 14/10/13 8:59pm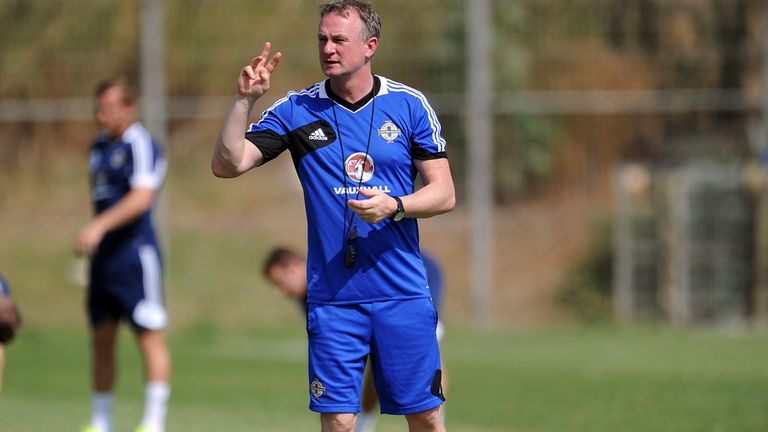 O'Neill's current contract will expire following their final World Cup qualifier against Israel on Tuesday, and negotiations over a new deal have been ongoing.
But he has come under pressure after leading the team to just one win in his 13 matches in charge, and the recent defeats to Luxembourg and Azerbaijan increased the pressure on him.
But Shaw believes O'Neill remains the right choice to lead Northern Ireland into qualifying for the 2016 European Championships.
"We have started the process and it will go on through October and possibly beyond," he told the Belfast Telegraph. "I personally haven't changed my view and still want Michael to continue and believe he remains the right man for the job."
Meanwhile, O'Neill insisted that he remains undeterred by recent results, and he is determined to see the national team through a transitional period and lead them into a brighter future.
Asked if he had the appetite to continue, he said: "That has never changed. Never. That's for another day though. It's the last game of the campaign, I hadn't really looked at it from the point of view of the contract.
"You either believe in the players or you don't and I believe that given time with this group of players they will start to get the results their performances have deserved.
"I know the fans will feel the disappointment the way I do and the way the players do but hopefully they've seen some green shoots through the campaign and can see that this is a team that can develop into one that will give them more big nights like the win over Russia in August.
"Going forward if I was to be in charge of the team I'd be better equipped, but if we're honest it will essentially be the same group of players. There's not a huge amount of players who aren't in the squad who really should be in it.
"I think people sometimes overlook the size of the country we are and the number of players we have to choose from. We have to put a structure in place that allows us to develop international teams because I think it's fair to say we don't have that at this minute in time.
"Looking at the ones who have come in to the squad in this campaign, Shane Ferguson and Danny Lafferty are the only homegrown players - the rest have come through eligibility.
"That's something as an association and as a country we need to address pretty dramatically."