Kazakhstan coach Miroslav Beranek hoping to beat Republic of Ireland in Dublin
Kazakhstan coach Miroslav Beranek has promised Ireland a tough match in Tuesday night's World Cup qualifier in Dublin.
Last Updated: 14/10/13 9:16pm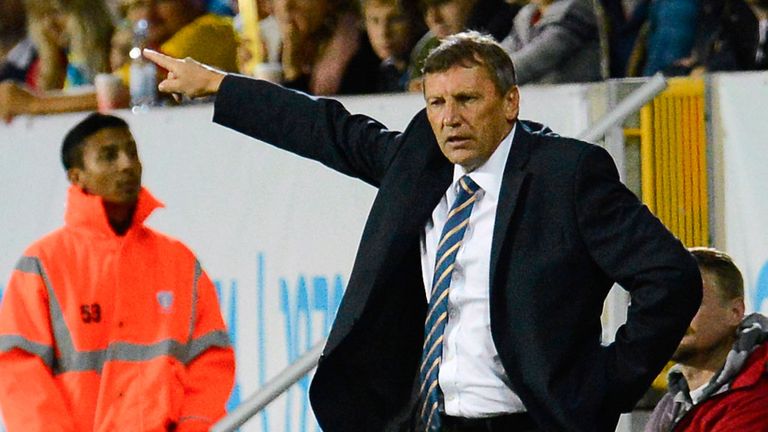 The Kazakhs looked set to pull off an upset when the two teams met in the reverse fixture in Astana. They led 1-0 but, with two minutes to go, Robbie Keane levelled the game with a penalty, and Kevin Doyle snatched an incredible victory in injury time.
Neither side can qualify for Brazil, but Ireland know a victory could see them as one of the second seeds for the Euro 2016 qualifying campaign.
The Kazakhs are merely trying to restore some pride after being held to a 1-1 draw with the Faroe Islands.
Beranek said: "I was not disappointed with the result. I know that the team can play better, and that's the goal we will be trying to achieve tomorrow."
However, Beranek is adamant that revenge for the Astana defeat will not be on his mind in Dublin.
He said: "I wouldn't say that in this match, we are talking about revenge, but of course we would like to get the most points we can in order to finish as well as possible.
"This game is going to be about the national pride of the team. Of course we will be trying our best in order to achieve the best possible result for the team because we are very proud that we are taking part in this game.
"We will be doing everything possible to defend ourselves."
Kazakhstan midfielder Andrei Karpovic is expecting a robust approach from the Irish.
He said: "We completely and totally respect our opponents. However, we do hope that we will be able to achieve the best possible result for our team.
"We are determined to show that we are a high-quality team and bring some joy to our supporters.
"We are aware of the difficulties we are going to face playing against the Irish team because they are known as a strong, very defensive and very aggressive, in the positive meaning, when playing football."