Aston Villa manager Paul Lambert hoping for World Cup lift
Aston Villa boss Paul Lambert is counting on his players to lift their games as they compete for World Cup places.
Last Updated: 19/10/13 1:54pm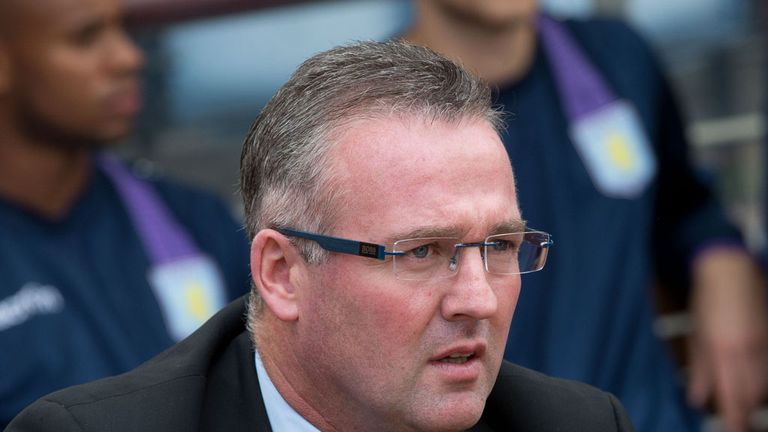 Belgium striker Christian Benteke, Holland defender Ron Vlaar and American goalkeeper Brad Guzan are all near certainties to feature in Brazil, while the likes of Gabriel Agbonlahor and Fabian Delph will be trying to force their way into Roy Hodgson's England plans.
Lambert believes the prospect of playing in the finals will give his players added incentive to perform at club level for the remainder of the season.
"It's good for the lads who have qualified, first and foremost," he said. "It's good for any player to get to a World Cup. The lads that are in contention will hopefully stay fit and healthy and will go.
"For their countries it's great and a great honour to go to the World Cup, especially in Brazil which I think will be a great tournament.
"If the lads stay fit and healthy and give me a ticket for the games, I'm quite happy...and my flights - that's the least they can do!"
Benteke, Guzan and Vlaar are regulars for their national teams, and Lambert does not need reminding of their undoubted qualities.
"They've got nothing to prove to me," he said. "They're experienced lads. In their own minds they might think 'this is a big year' but it was always going to be a big year for any player fighting to get into a World Cup squad. It's a massive year.
"Even lads that haven't been that involved in the qualifying group, somebody will pop up from somewhere and sneak in. That's what happens in football.
"I don't know about our English lads. There's one or two who are playing really well.
"I'm pretty sure Roy's loyalty...you tend to find the ones who got you there will form the majority of the squad, but you do get one or two who do surface from somewhere. If they can do it, then great.
"You can get injuries between now and the end of the season. Things can happen. You've just got to hope that your players are on their game and they get looked at or have an opportunity.
"It's a big season for every English player in terms of getting to this World Cup.
"It's good for the Premier League that England have qualified because it takes away a bit of criticism about the number of foreign lads who are playing here so it's good for England in that way.
"For some of the experienced lads it will be their last World Cup so for them, on a personal note, it will be great."