FIFA president Sepp Blatter defends himself and his organisation
FIFA president Sepp Blatter has launched a robust defence of himself and his organisation in an Oxford Union speech.
Last Updated: 26/10/13 11:10am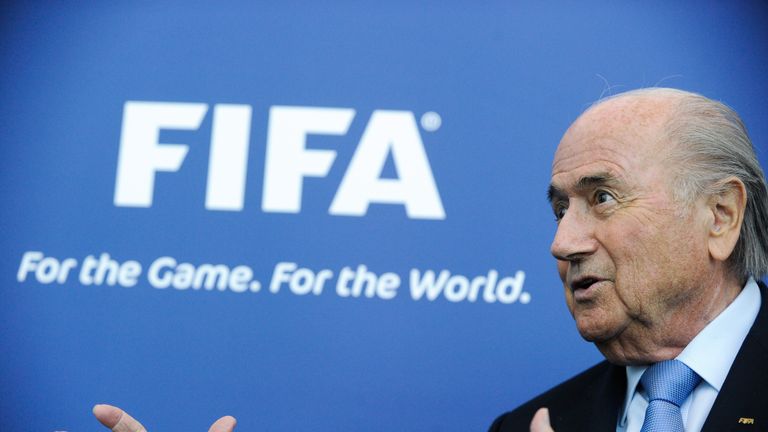 Blatter claimed he is stung by the criticism that has often been levelled at him, insisting he has always acted in the good of the game.
A series of corruption scandals have affected FIFA's credibility, with several members of Blatter's executive committee leaving their positions in controversial circumstances.
An investigation is currently ongoing into the bidding process for the 2018 and 2022 World Cups but the 77-year-old vigorously defended himself, insisting he was no "ruthless parasite" and that FIFA had become a "scapegoat".
He also took the opportunity to reject the idea of a World Cup boycott in the wake of comments made by Manchester City midfielder Yaya Toure after he complained of being racially abused in their Champions League game with CSKA Moscow.
"Perhaps you think you know who I am, what FIFA is, what we do," Blatter said in his prepared speech, which was released by the world governing body.
"Perhaps you think I am a ruthless parasite sucking the lifeblood out of the world and out of football! The Godfather of the FIFA gravy train! An out-of-touch, heartless schmoozer!
"There are not many names that the media haven't thrown at me in the last few years. You would have to have a heart of stone for it not to hurt. You ask yourself, what have I done? Why has it come to this?
"Is FIFA to blame for everything? Are we not just a football organisation working for the good of the game? How did it come to this?
"People like a scapegoat, of course, but how could things have become so twisted?
"As you can see, I am not some overbearing bully who can intimidate my critics with one look and strong arm governments to my will.
"But sometimes it feels like all that unsung, good work FIFA is working to achieve through investing in football and communities around the world has been washed away in the thoughtless swipe of the pen."
As for the subject of a possible World Cup boycott, Blatter added: "We should never speak about a boycott of the World Cup.
"The World Cup is the biggest event in the world. We should fight against racism but a boycott would not be a weapon against the racists."
Blatter could yet stand for a fifth presidency of FIFA and he was keen to dispel the misconception that he is no fan of the United Kingdom.
"One falsehood I must address is this idea that we at FIFA have something against the United Kingdom and its people," he added.
"This is the birthplace of association football. To be an active part of that footballing heritage and that history is one of the greatest honours of my life."