Premier League: Jack Butland's England ambition remains
Jack Butland does not believe that being on loan at Barnsley in the Championship is hampering his England chances.
Last Updated: 25/10/13 10:26pm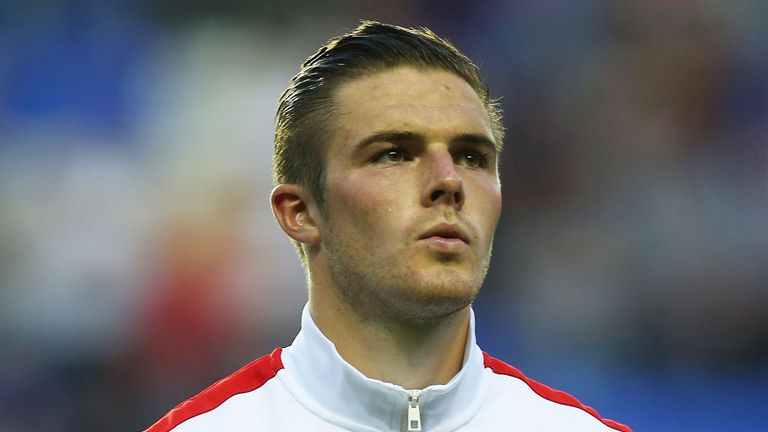 With Asmir Begovic firmly entrenched as number one at Stoke City, Butland was left with little option to look for a loan move and he was snapped up by Barnsley.
But Butland does not believe playing outside the Premier League will hamper his ambition of going to next summer's World Cup finals.
"I've always wanted to be an England international. I want to get back in the squad and I want to go to the World Cup in the summer," he told Weekend Warm-up on Sky Sports News.
"That has been my target from the start of the season. If I wasn't playing it would be impossible for me to go.
"By coming here for three months, taking me up to the window in January, gives me the opportunity to get game time, to improve and to help here which will give me confidence.
"Ideally, in the second half of the season I would like to nick a Premier league loan move, which would be the ideal scenario, but I just need to keep playing.
"He (Roy Hodgson) is aware that I am here and fortunately, with the St George's Park set-up, when the 21s and seniors are there he is keen to catch up with me and the others lads.
"He is really interested to know how things are going at club level. I'm sure Dave Watson, who is another goalkeeping coach I have been working with, knows I'm here too. If I wasn't playing nobody would be seeing.
"The idea is to keep playing. If that is at Stoke, that is the ideal plan. If it is not, then it's not. But as long as I'm playing and knocking on the door that is all I can do."
For Barnsley, Butland is looking forward to the Yorkshire derby this weekend with Sheffield Wednesday.
"I know the anticipation and expectation on this game this weekend," he said.
"We had a few fans waiting for us when we came off the pitch [after training] and one said to me, 'you know how big this game is don't you?'. That tells me how much it means to the fans and to the people of Yorkshire.
"I'm excited for it. These are the games you live for: big derby games with loads of fans and the pressure is on."