Sepp Blatter rules out Qatar sharing 2022 World Cup with another nation
FIFA president Sepp Blatter insists the 2022 World Cup will not be staged in January or February but will be in Qatar.
Last Updated: 09/11/13 7:31pm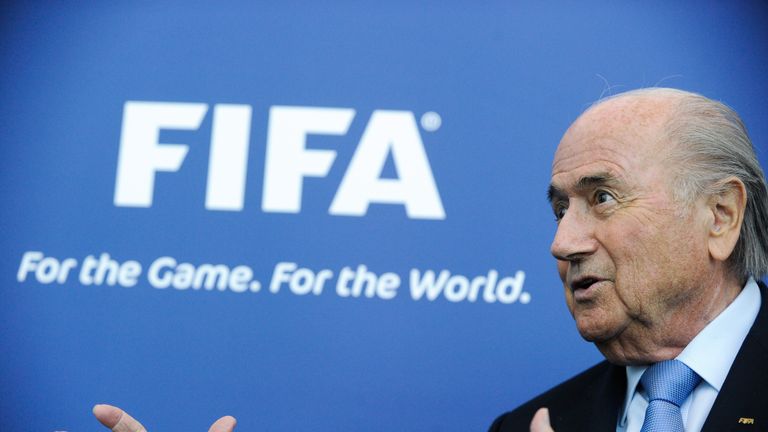 The Gulf state are expected to stage the most prestigious tournament in world football during the winter for the first time in the event's history due to concerns about the extreme heat in June/July.
And Blatter took to social networking site Twitter to clarify his position regarding the staging of the tournament.
"3 point mission to Qatar now complete," he said. "Reconfirmed to Emir & PM that 2022 World Cup will be played in Qatar (& NOT shared with anyone).
"Discussed possible change to 2022 dates. Consultation process must continue, but Jan/Feb ruled out to avoid Winter Olympics clash."
In an earlier interview Blatter hinted FIFA would be prepared to discuss suggestions Qatar should co-host the tournament with another nation.
"I keep a big question mark on this," Blatter said. "I have just passed through Iran and, even on a political level, people told me they would be happy to host some of the matches.
"So not even in the Gulf state but in the Middle East in general people care about this.
"The UAE would also be very eager, but let's go step by step.
"The first step is to see how it can be played in November and December and this shall be until the next World Cup: we have six, nine, months' time to do so."
Blatter also played down fears regarding workers' rights in Qatar following the revelation that dozens of Nepalese workers have died in the country this year.
"Received full report from authorities & BWI (Building & Wood Workers International) union on efforts to improve working conditions," he said.
"I really encourage people to see these efforts to improve working conditions themselves, before forming opinions."