Steven Gerrard is dreaming of England having a successful World Cup next summer
England captain Steven Gerrard says he dreams of the squad being 'clapped home' off the plane from Brazil next summer.
Last Updated: 12/11/13 8:46am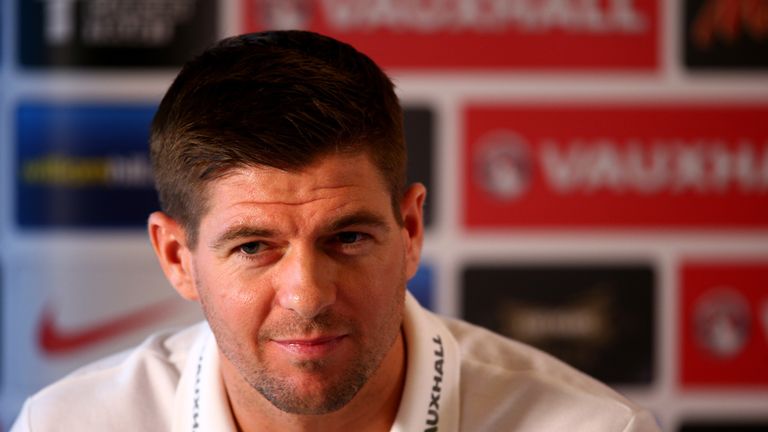 To do that, Gerrard knows that they need to make at least the semi-finals and repeat the success of Sir Bobby Robson's England squad of Italia 90.
"To be clapped home would be amazing," Gerrard told the Daily Mail.
"But it will only happen if we go past the quarter-final."
Gerrard currently stands on 107 caps for his country and the chance of being England's most capped player is there, but he insists his own personal records are not important.
He said: "It is not about me passing Bobby Moore, Peter Shilton or David Beckham. To think about that would be very self-centred. I am not that type of person.
"For me the ambition is this: can I help get the team past a quarter-final? I haven't really thought about what I will do after the World Cup. It is all about going to enjoy this World Cup. What an experience it will be in Brazil. I am absolutely delighted to help the team get there, it was a great achievement. But now the attention has to switch to: what can we do there?'
"I never expected to get that amount of caps. When I made my debut, I set myself the personal target of trying to get 50 caps and score 10 goals if I could.
"So to have 107 is something I am really proud of, particularly being among those names.
"I'm not looking at Shilton or Beckham. Passing Bobby Moore would be the next one. To go past him, after everything he did, would be unbelievable. But the dream would be to come away from a tournament and everyone back home is proud of the team."
Healthy
Gerrard turns 34 next year and it has been claimed that he is ready to call an end to his international career after the finals in Brazil, but he insists that is not the case.
"I'm managing myself very well on and off the pitch," he said.
"I have got a fantastic medical team around me. I've always said if I can get my body right and be healthy, I can cope with Liverpool and England, no problem."
England have gone into past tournaments with expectation weighing on their shoulders, but Gerrard insists the players are staying grounded.
"I think there is a lot more realism now," says Gerrard.
"Nobody is blowing us up to be something we are not. That has helped the team.
"The expectations aren't crazy, it is realistic. We are not one of the favourites but if we go there and it clicks, who knows?"
The Liverpool captain also continues to heap praise on the striking partnership of Daniel Sturridge and Luis Suarez at Anfield.
"It's a dream, an absolute dream," he said of the 'SAS'.
"I have always played with one top forward through my career here. Now there are two main men and it is great. I will be honest and say that at the start, I wasn't sure whether it would work. But it has clicked without much work in training. I'm excited as I think it can get better.
"Daniel has grown as a player. He has been great for Liverpool but Liverpool have been great for him. If he keeps listening to the right people, he can improve."
Meanwhile, Gerrard refused to get drawn into a war of words with former Manchester United boss Sir Alex Ferguson - who in his recent autobiography said that he was 'not a top, top player'.
'Listen, he's entitled to his opinion," he said.
"I'm a fan of his; he is one of the best managers in the world. I won't lose any sleep over it. Throughout my career I have had praise from all types of people - including him - and I am not vain enough to take it all. I have had some unbelievable praise from him and he tried to buy me, certainly on one occasion. Maybe even two.
"For me, the most important thing is what Brendan Rodgers and Roy Hodgson are thinking. I think they are really pleased with me and that is all I will worry about."