West Brom's Jonas Olsson plays down spat with Chelsea boss Jose Mourinho
Jonas Olsson has put his spat with Jose Mourinho behind him as he focuses on helping Sweden qualify for the World Cup.
Last Updated: 14/11/13 8:54am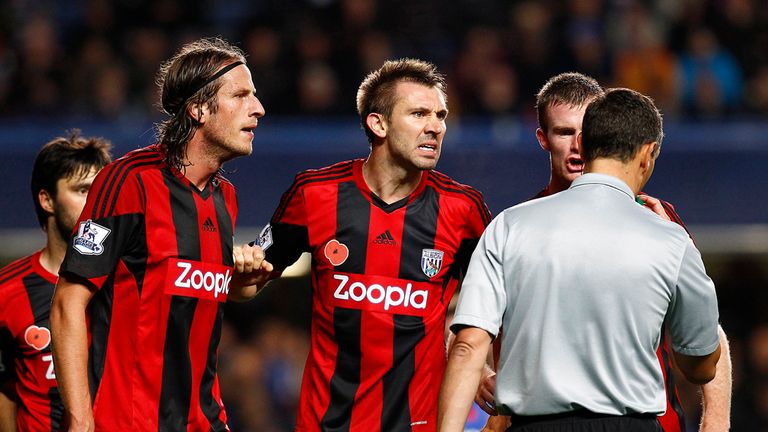 Olsson and the Chelsea boss were involved in an angry bust-up in the tunnel following Saturday's 2-2 Premier League draw at Stamford Bridge after a controversial last-gasp penalty was awarded to the Blues.
Up to 20 coaches and players from both sides were involved in the dispute, during which Mourinho is alleged to have called Olsson a 'Mickey Mouse player'.
However, the 30-year-old wants to now do his talking on the pitch against Mourinho's homeland Portugal.
Olsson says Sweden's World Cup play-off tie against Portugal on Friday and next Tuesday - both legs being shown live on Sky Sports - are the 'biggest' games of his career.
Speaking of Saturday's encounter, Olsson told The Sun: "It was a game which ended with two disappointed teams.
"We felt that we had done enough to win but the verdict went against us. They felt some things had gone against them.
"It was a bit messy on the way to the changing rooms."
Unimportant now
He added: "What happened last weekend feels very unimportant now.
"The important thing for me now is to put in a good performance in Lisbon (on Friday).
"Hopefully I can get some minutes on the pitch.
"The World Cup is not something you want to miss, so these are two big games.
"They are the biggest of my career so hopefully I can play my part and help us qualify.
"My head has been with West Brom until now but now I am focusing on Portugal."