England striker Wayne Rooney wants to win trophy ahead of World Cup in Brazil
Wayne Rooney is determined to help England win a major trophy and insists he is 'proud' to play for his country.
Last Updated: 15/11/13 3:37pm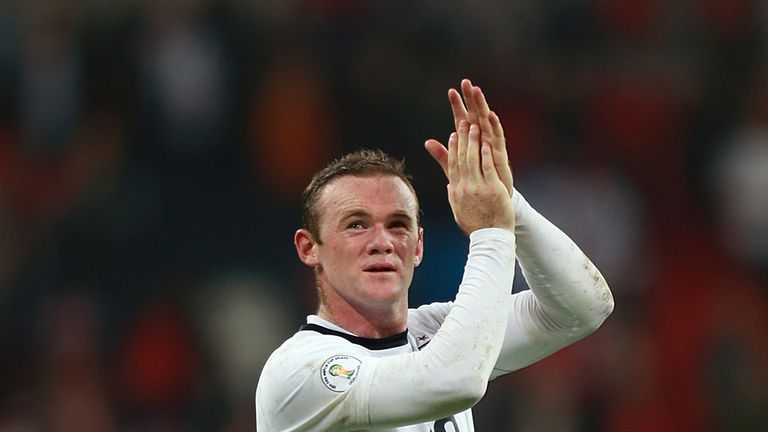 England have only once tasted success on the international arena after Sir Alf Ramsey led the national team to the 1966 World Cup on home soil.
Since then, England lost in the semi-finals of the 1990 World Cup and 1996 European Championship, and have regularly fallen at the quarter-final stage in recent tournaments.
The chances of England being successful at next summer's finals in Brazil have been written off in many quarters, but Rooney is eager to win something with Roy Hodgson's side.
"We want to try and do what no team has done since 1966 and win a major trophy," the Manchester United striker told the Football Association's website.
"That's the aim for us all and that's what we hope we can do."
England qualified for the finals unbeaten after closing home wins over Montenegro and Poland, and that record gives Rooney reason for optimism ahead of what would be his third World Cup.
He added: "It's been a good campaign, the aim was to finish top of the group and that's what we've done.
"We played some good football in some of the games and we dug in in others. Overall we are pleased with the way it went."
England face Chile in a Wembley friendly on Friday night and Frank Lampard will be presented with the special golden cap which has been awarded to every player to reach 100 caps since David Beckham entered the 100 club in 2008.
Lampard, Ashley Cole and Steven Gerrard have also passed the 100-cap mark during Rooney's time with the national side and he feels it has been a privilege to play with all of them.
"They are players who are always here and want to play for their country," said Rooney, who has 86 caps to his name.
"It's great that we've had so many, the likes of Steven, Frank, Ashley who have all got their hundred caps, then I'm not too far behind.
"I'm proud to play for my country and we are always here and always want to do well. When you are a young lad you play and try to get into your club first team, then do well enough to hopefully play and represent your whole country."