World Cup: Noel Le Graet says France will overcome their first-leg deficit
FFF president Noel Le Graet is adamant the national team can still qualify for next year's World Cup in Brazil.
Last Updated: 18/11/13 4:28pm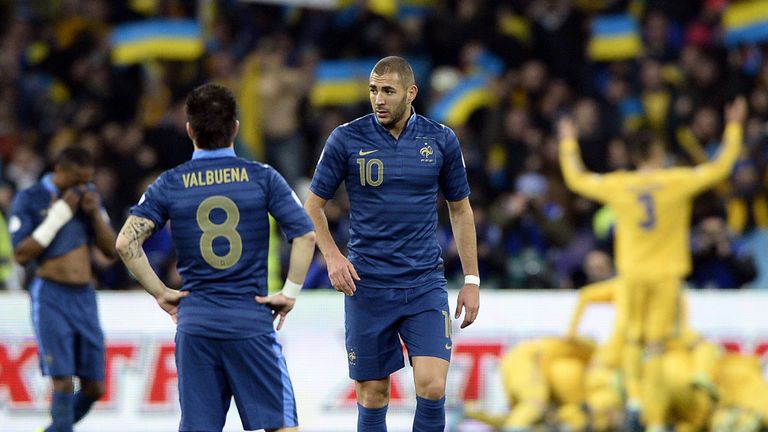 The 1998 World Cup winners fielded a star-studded line-up in Kiev last Friday, with a combined transfer cost of £106m.
But Roman Zozulya and Andriy Yarmolenko scored second-half goals for the hosts and France then had Arsenal defender Laurent Koscielny sent off.
The team have been heavily criticised in the French media since the defeat and will need to produce an amazing comeback at the Stade de France on Tuesday if they are not to miss out on the World Cup for the first time since 1994.
Le Graet remains hopeful
But Le Graet visited the team on Sunday and told France Football: "I felt good mobilisation, confidence, and reason to be optimistic.
"The France team will qualify on Tuesday."
However, he added: "I am president of the FFF, not the team of France.
"Sometimes it seems that everything depends on the France team at the FFF. While it is our showcase, this is not the case."
Asked what French failure to qualify for the World Cup would mean, France Football journalist Philippe Auclair said: "It will be the confirmation that this decline people are talking about is a reality.
"It will also be confirmation that there is something deeper than that, which has to do with the attitude of our players and their relationship with the national team, which is something which is the subject of great, great debate in France.
"French footballers do not have a very good image, to say the least, in my country."
Dire state of affairs
Auclair added that the public perception of French internationals was that they are "overpaid, over-hyped, too much in love with themselves, pre-occupied by their own careers, and not aware what wearing the national jersey really means.
"Individualists, basically, who seem to have a huge problem moulding themselves as members of a national team.
"It is a fairly dire state of affairs. Not going to Brazil would be an absolute disaster for the national team and everybody involved with football in France, including the media.
"We are all absolutely aghast at the prospect of France not being in Brazil."
Koscielny will be suspended for the second leg and his Arsenal team-mate Bacary Sagna may replace him, although he would be playing out of position.
Liverpool's Mamadou Sakho and Real Madrid's Raphael Varane are also candidates to line up alongside Eric Abidal.
Arsenal's Olivier Giroud and Loic Remy of Newcastle started in attack on Friday night but Real's Karim Benzema is a candidate to come into the side on Tuesday.
Deschamps calls for total football
France manager Didier Deschamps told TF1: "What awaits us on Tuesday is the possibility to turn the tide.
"We must apply pressure, but also be aware that they will not keep 10 players behind the ball.
"They will not come to defend. It will require total football and that we maintain a high tempo from beginning to end."