Germany head coach Joachim Low wary of England's counter-attacking threat
Germany head coach Joachim Low is concerned about the threat England pose on the counter-attack.
Last Updated: 19/11/13 10:34pm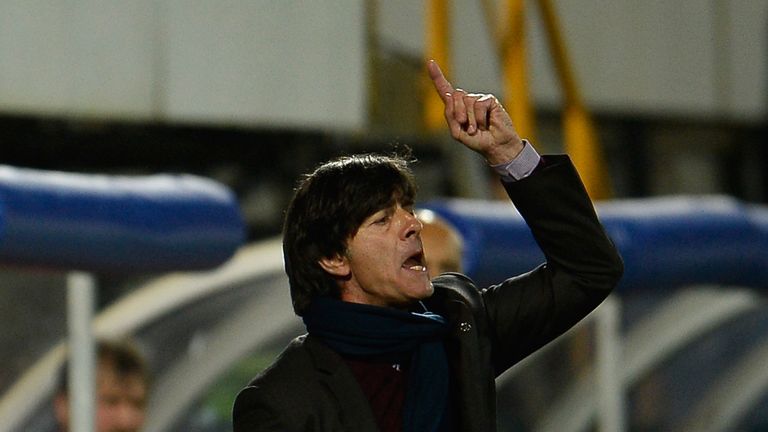 He does not expect Roy Hodgson's side to adopt Borussia Dortmund's high pressing style when they lose the ball.
But with Liverpool striker Daniel Sturridge starting at Wembley, and Andros Townsend back in the side after being rested against Chile, he is wary of the threat they pose when they win the ball back.
"If you look at both Arsenal and Dortmund both of these teams are shaped in a very special way, not necessarily by English or German players, but by foreign players," he said.
"I don't think that you should compare club and national teams, they are two different cups of tea.
"But at the same time I think England are very good at that.
"If you look at (Wayne) Rooney dropping deep, (Theo) Walcott and Sturridge, they are very good on the counter-attack.
"So yes it would suit England to play on the counter-attack, why not?"
Low added: "England have been and always will be one of the big footballing nations, if you ask me.
"Looking in from the outside, (Steven) Gerrard, (Frank) Lampard and (Wayne) Rooney are players of elite calibre with a wealth of experience behind them.
"Andros Townsend is very quick and dynamic, and they have impressive wide players.
"So England have nothing to fear in that department.
"England may be tactically different from Italy, but they are still playing with tremendous force, they have great tackling power and a very dynamic approach to the game.
"And they have individual players who with a solo effort can decide a game if need be."
As for his own side's goalscoring abilities, Low feels they need to sharpen up after being held to a 1-1 draw in Italy on Friday.
"We must improve our play in the final third," he added.
"We lacked efficiency against Italy, missing the clinical precision needed at the level.
"We've got to finish as well as create opportunities, especially at World Cup level, where you only get one or two chances a match."