World Cup: Roy Hodgson to tinker with his England line-up against Denmark
Roy Hodgson is willing to risk a third straight home defeat in order to tinker with his England line-up against Denmark.
Last Updated: 20/11/13 4:12pm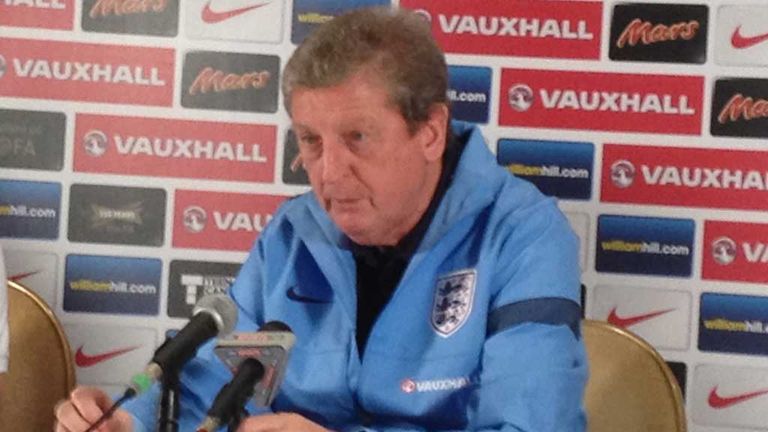 Boos rang out yet again at Wembley on Tuesday evening as Per Mertesacker's header condemned England to back-to-back home defeats for the first time since 1977.
Hodgson looked at 25 players during the losses to Germany and Chile, with Jay Rodriguez, Adam Lallana and Fraser Forster making their debuts.
Jordan Henderson and Kieran Gibbs returned to the international fold after a long absence while Ross Barkley and Tom Cleverley were given a chance to prove they are worthy of a ticket to Brazil.
England now have only one game - against the Danes in March - before Hodgson names his provisional 30-man World Cup squad on May 13.
Even though another home defeat could have a psychological impact on the team, Hodgson thinks it is vital that he has another look at his fringe players when the Danes come to London in four months' time.
"I might risk a third defeat, but for the game against Denmark, it might be that we actually use players that we need to test out more and that we rest the players who we are 100 per cent certain of," the England manager said.
"That's a possibility. It's more likely than us going into that game, with just one and a half days' preparation thinking: 'Let's get our best XI out on the field'. That might not give me the answers I want for the squad."
While Hodgson's stance is perfectly understandable, the prospect of a third straight defeat just prior to a World Cup is not one that will fill worried England fans with glee.
The last time England suffered three straight losses was at Euro '88, when Sir Bobby Robson's men finished bottom of their group.
That team went on to reach the semi-finals of the World Cup two years later, of course, but even the most optimistic England fan cannot see that happening in Brazil as things stand.
Germany's much-changed team never looked like losing to England despite not having possession for large chunks of the match while Chile out-passed the hosts with a worrying ease last Friday.
The euphoria of World Cup qualification may have evaporated - the booing at the end made that clear - but Hodgson is not concerned about England's World Cup hopes.
"We certainly have no reason to panic," the 66-year-old said. "If anything I think I am much wiser after the two games with regard to the players I have at my disposition and with regard to what we need to work on going into Brazil.
"Booing at the end of games these days is par for the course.
"I feel that our fans have been very good support. Of course they are disappointed. They wanted us to win but we couldn't. But as far as I am concerned, we have a learned a lot from these two games."