World Cup: FIFA to launch full investigation into Sao Paulo stadium tragedy
Urgent checks will be carried out on the World Cup stadium in Sao Paulo after two construction workers were killed.
Last Updated: 28/11/13 1:46pm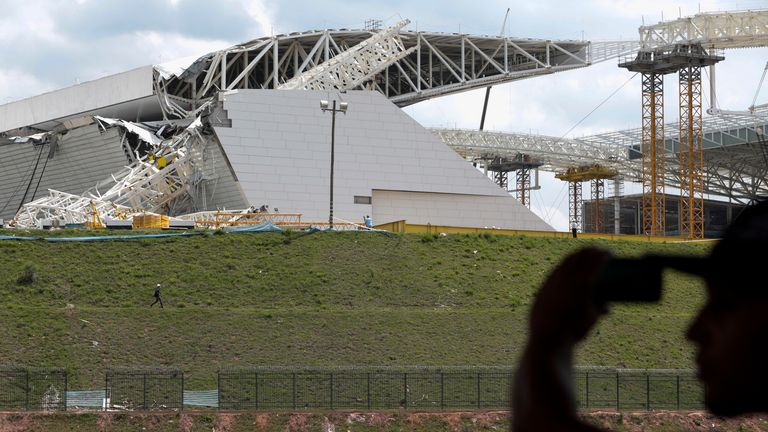 FIFA and the Local Organising Committee will carry out a thorough investigation into how a crane collapsed whilst lifting a section of the stadium's roof into place.
Work on the stadium, which is due to stage the opening World Cup fixture, was due to be finished by December 31 - the deadline for the completion of all the stadiums for next summer's tournament.
FIFA now say they expect a delay of between 45 and 60 days, which will increase worries over whether Brazil will be fully prepared for the June 12 kick-off.
Six venues have already been declared ready but there are concerns about three others in Cuiaba, Manaus and Curitiba.
Bosses at the Corinthians Arena said the "structure of the grandstand was not compromised" by the crane accident and that work will resume on Monday.
Corinthians, who will play their home games in the stadium once it is completed, confirmed the deaths on their website in a joint statement with the constructors.
The statement said: "Odebrecht Infrastructure and Sport Club Corinthians Paulista regret to inform you that in early afternoon an accident during work at Arena Corinthians caused the death of two workers - Fabio Luiz Pereira, 42, driver/operator of the company BHM Munck, and Ronaldo Oliveira dos Santos, 44, builder from the company Conecta.
"Shortly before 1300, the crane that hoisted the last part of the structure of the metal roof of the stadium collapsed."
Brazil-based journalist Tim Vickery believes heavy rain may have been a factor in the tragedy.
"There is speculation that it could have something to do with the heavy rain that has been falling in this part of the world for the last few days," he told Sky Sports News.
"Some are suggesting the soil underneath the crane gave way, causing it to collapse.
"If that is the case then one of the questions will be 'could that risk have been forseen?'
"The Sao Paulo authorities have completed an initial investigation but still haven't decided if it was human error or machine error - they'll be back later today to continue their investigation."
FIFA president Sepp Blatter said on Twitter he was "deeply saddened" by the deaths.
In a statement, FIFA added: "The safety of workers is the top priority for FIFA, the LOC, the federal government. We know the safety of all workers has always been paramount for all the construction companies contracted to build the 12 FIFA World Cup stadiums. The local authorities will fully investigate the reasons behind such a tragic accident."
Corinthians announced the club would respect seven days of mourning for the victims of the tragedy, and according to reports in Brazil construction workers have been given leave for the next two days.