England manager Roy Hodgson hails fantastic Wayne Rooney
England manager Roy Hodgson says he is looking forward to releasing Wayne Rooney on the world.
Last Updated: 02/12/13 9:58pm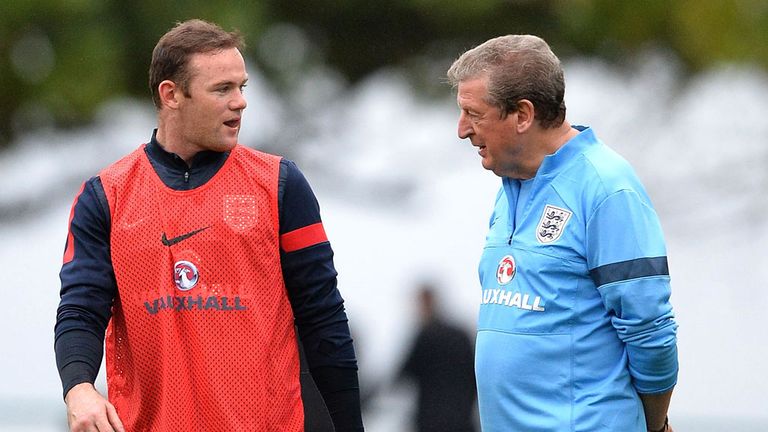 Rooney has been in excellent form this season and Hodgson was at White Hart Lane on Sunday to watch the Manchester United striker grab two goals in the 2-2 draw with Tottenham.
The England boss is delighted by Rooney's recent performances for his club and is hoping he can take that form into the World Cup in the summer.
Speaking at an event organised by one of the Football Association's sponsors Mars, Hodgson told Sky Sports News: "He is playing fantastic. He's an outstanding player.
"I just wish I could turn the clock forward and keep him in this form, maybe bottle up what he is doing at the moment, and keep it on a shelf somewhere and release it in May and June.
"I have got to hope Wayne can keep up that good form and we see exactly the same in June as we are seeing at the moment - if we do we have got one major tool in our box."
Hodgson has also put his faith in England goalkeeper Joe Hart who has lost his place in the Manchester City team to to Costel Pantilimon after a string of high-profile mistakes.
"I'm disappointed for him because I know he wants to play," he said.
"I believe he is an excellent goalkeeper but he has lost his place in the team at this moment in time.
"But I shall wait until much further down the road when it comes to selecting a group of players to go to Brazil before I start to get concerned about it.
"I just trust that the goalkeeper he is with the qualities he has will force his way back into the team."
The England manager also revealed that he has no plans to recall Chelsea defender John Terry from his international retirement.
"At the moment that is not something I am prepared to talk about," he added.
"John retired from international football and I respected that decision. I know it was a decision he didn't take lightly so there is no point really in me speculating on John's future.
"At the moment John doesn't exist for me because he has retired from international football."