World Cup: Completion of three stadiums in Brazil delayed beyond FIFA deadline
Organisers of the World Cup have suffered another setback with the building of three stadiums falling behind schedule.
Last Updated: 03/12/13 11:36pm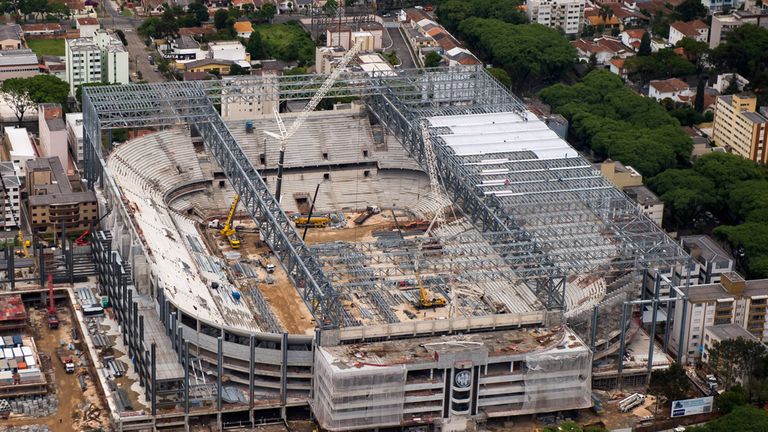 FIFA indicated ahead of Friday's draw in the north eastern resort of Costa do Sauipe that the arenas at Sao Paulo, Curitiba and Cuiaba would not be ready by 31 December.
World football's governing body had previously insisted the date was set in stone and they will not be impressed at being informed that delivery of the stadiums at Curitiba and Cuiaba is not expected until February, just four months before the World Cup kicks off.
A date has still to be set for the Sao Paulo arena being ready following last week's tragic accident when two workers were killed after a crane collapsed and damaged part of the stands.
FIFA said it would not allow the deadline to be extended having tolerated similar delays ahead of last June's Confederations Cup dress rehearsal, when several venues missed the deadline for that tournament.
Having assessed a new report, FIFA president Sepp Blatter insisted on Tuesday that Sao Paulo "will be ready".
Blatter said: "We have just received a report. There are some small delays in construction of stadia. But so small that with one exception (Sao Paulo) we can say everything is ready."
FIFA secretary general Jerome Valcke said the stadium in Curitiba, which has been lagging behind schedule more than the other venues, would not be ready until the end of February.
"Curitiba is the one where we are facing the most problems and won't be delivered before the end of February 2014," Valcke said.
"We will be ready to get the stadium by the end of February 2014."
The Arena Amazonia in Manaus, in the heart of the tropical rain forest, is also still under construction, as is the one at Cuiaba.
Blatter said that FIFA believed it could trust the federal government, the state government and the respective city authorities to ready their sites in good time to host the event.
Brazilian sports ministry executive secretary Luis Fernandes indicated that the stadiums lagging behind would be delivered "in late January, or late February."