World Cup: Four more Brazil stadiums will be available for January
Four more World Cup stadiums will be ready at the end of December and will be handed over in January.
Last Updated: 05/12/13 7:08am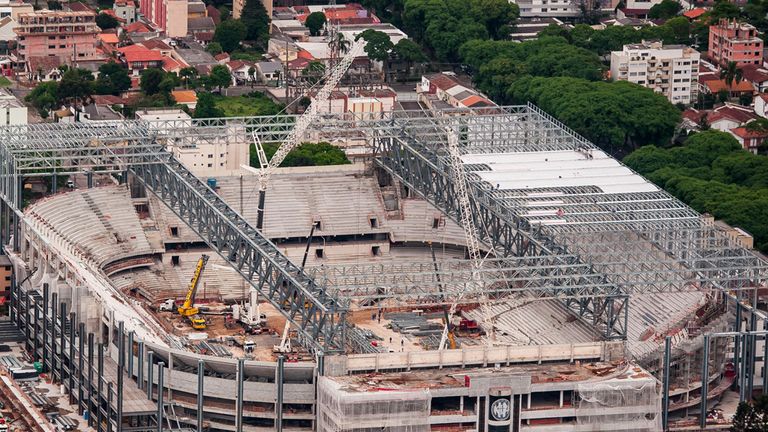 That means the only stadia with considerable building work still to be carried out are the Arena da Baixada in Curitiba and the Itaquera Corinthians in Sao Paulo, where two workers died last week when a crane collapsed onto the stadium.
FIFA and the Brazilian government are waiting for a technical report into last week's accident but the stadium looks set to be ready for the opening match on 12 June, with the other 11 venues also expected to be ready in time to host matches.
"The stadiums in Natal, Manaus, Porto Alegre and Cuiaba will be ready or almost ready in December in time for FIFA's December 31 deadline," said Brazil's deputy sports minister Luis Fernandes.
"But because of the Christmas and New Year holidays, the stadiums will be opened in January.
"In all, 10 of the stadiums are now ready, leaving just Curitiba and Sao Paulo which won't be ready much before February."
FIFA vice-president Jim Boyce told Sky Sports News that he was satisfied that the stadia would be ready.
"There are delays and some of the stadia will not be finished by the deadline," he said. "But we have been given an assurance by the local organising committee that all stadia - with the possible exception of Sao Paulo - will be ready by the middle of February at the very latest."
Meanwhile, FIFA spokesman Walter De Gregorio has defended the decision to choose light-skinned model Fernanda Lima and her white husband Rodrigo Hilbert as presenters for Friday's World Cup draw.
Soap stars Lazaro Ramos and Camila Pitanga had been suggested as possible hosts for the event.
Sao Paulo state prosecutor Christiano Jorge Santos was quoted as saying in The Sun: "Racism is a serious matter in Brazil. We need to find out if a crime was committed. We do not want the image of our people to be whitened or distorted."
But De Gregorio described the argument as "ridiculous" and defended the decision to choose Lima and Hilbert.
"The fact we are blamed now for racism because the choice is that a blonde, white woman is presenting is ridiculous," he said.
"You go and see our record, what we did in the past.
"You start with the Ballon D'or, for instance. It is one of our major events and in the last two years we had Ruud Gullit presenting that.
"I think here we are going to try and make a story out of nothing and we have to be fair towards the presenter.
"She is not there just because she is white and blonde, she is there because she is good."
The World Cup draw can be seen live on Sky Sports 1 HD and Sky Sports News HD from 4pm on Friday.