England boss Roy Hodgson fears nobody at the 2014 World Cup draw
Roy Hodgson says he does not fear anyone as he waits to learn who England will face at the 2014 World Cup in Brazil.
Last Updated: 06/12/13 6:59pm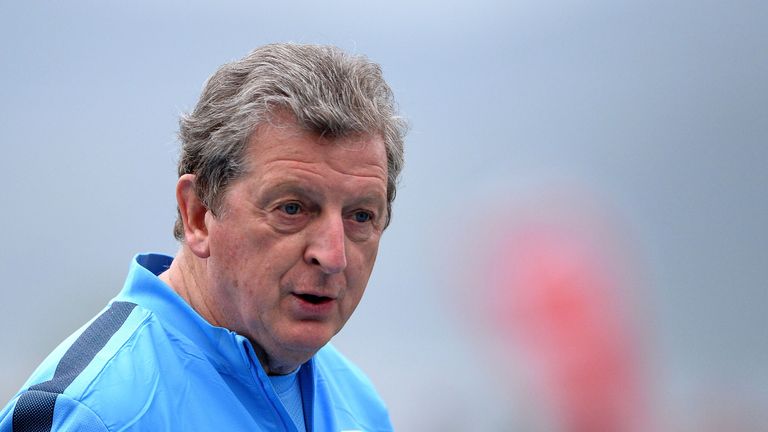 The draw will take place in the host country on Friday, with England among nine unseeded European teams in Pot Four.
However, FIFA has announced a change to its usual draw procedure with one of the teams in the final pot being moved to Pot Two along with Algeria, Cameroon, Chile, Ivory Coast, Ecuador, Ghana and Nigeria.
If England were selected for that pot, it would mean Hodgson's men would be in the same group as a seeded South American side such as Brazil and Argentina, and would face another of the unseeded European sides, with Holland or Italy among the possibilities.
Hodgson, though, is not worried by the prospect of facing any side at the finals and is focusing on the positives.
"We respect everybody, we don't fear anybody," Hodgson told Sky Sports News. "Whatever group we get we think it will be a tough one but we are happy just to be in a group and to take whatever draw is given to us.
"I feel some excitement and some satisfaction at a great achievement at being here. That was our goal and we had to work very hard in our group over 10 qualifying games.
"All along there was a carrot at the end we were looking to enjoy and that was being in the final tournament. This brings it home; all the hard work has led to this and we can't wait to see who we get."
When asked specifically about the prospect of England moving to Pot Two, Hodgson replied: "It has to happen to one team. FIFA has decided this is the right thing to do and I have no qualms with that.
"As I said, whatever pot we find ourselves in and wherever we are asked to play I am just happy to be here. I think we will give a good account of ourselves when we get here. We will be as well prepared as team can be."
England have secured a base in Rio for the tournament but the draw may well necessitate them playing in more northern locations.
While remaining open to the prospect of changing their base, Hodgson is hopeful such a scenario will not come to pass.
"We are open to all things," added the 66-year-old. "But we hope we don't have to change the Rio base as it is a very good one.
"We have spent a lot of time on it so it would be a pity if we have to move."
Sky Sports' chief football reporter Nick Collins admits a 'group of death' could lie in store for Hodgson's squad, saying: "The best case scenario would be if England were drawn in Switzerland's group. They would be absolutely delighted.
"In Euro 2012 qualifying they took four points of them and - having managed their national team - there's not much Hodgson doesn't know about Swiss football!
"From pot two, Cameroon (ranked 51) might be the ideal opponents. England beat them in a dramatic quarter-final at Italia 90 and have never lost to them while I believe they would like to play Iran from the third pot.
"Worst case would be for England to be drawn into pot two at the start and end up in Brazil's group. Add to that USA from pot three and Euro 2012 runners-up Italy, and there you have it: a nightmare group."
Sky Sports will bring you all of the news from the World Cup draw in Brazil live on Friday from 4pm - online, on mobile and on Sky Sports News.