Excitement mounts
Sky Sports News' Nick Collins reports from Brazil ahead of the draw for the 2014 World Cup and examines the possibilities that lay in wait for Roy Hodgson's England...
Last Updated: 06/12/13 6:20pm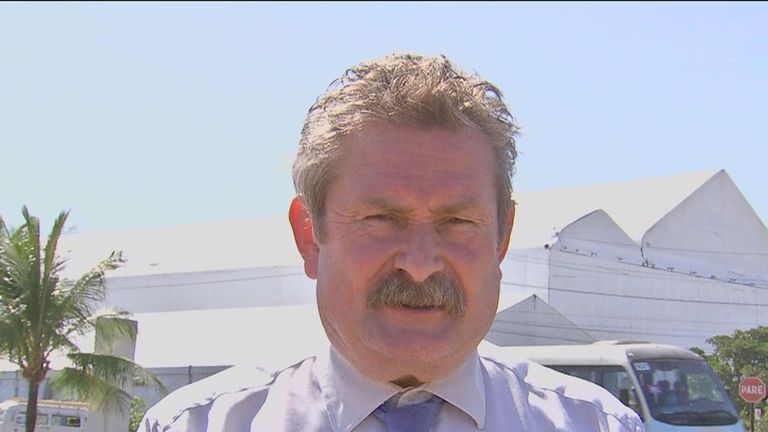 The coaches of the nine unseeded European nations will be holding their breath when the first ball is drawn out.
That is because one UEFA team had to be reallocated from Pot Four to Pot Two to keep the numbers even.
It sounds like a small change - but it will have a big impact because that European side is guaranteed to face a South American seed, and another European team - immediately making that group one of the toughest.
If England avoid that fate and stay in Pot Four, Roy Hodgson will probably allow himself a smile of relief.
We already know the hosts Brazil are in Group A and open the tournament in Sao Paulo on June 12. After that the other seven seeds (Spain, Germany, Argentina, Columbia, Uruguay, Switzerland and Belgium) will be drawn into groups B to H.
Then the Pot Two teams (two from South America, five from Africa, and that potentially unlucky one from Europe) will be drawn.
Next it's Pot Three (four from Asia and four from Central and North America) and by now the groups will really be starting to take shape.
Finally it's the turn of the remaining eight Europeans. Most likely this is when England will enter the draw...
So what are the best and worst case scenarios?
Best: If England were drawn in Switzerland's group they would be absolutely delighted. In Euro 2012 qualifying they took four points of them and - having managed their national team - there's not much Hodgson doesn't know about Swiss football!
From Pot Two, Cameroon (ranked 51) might be the ideal opponents. England beat them in a dramatic quarter final at Italia 90 and have never lost to 'the Indomitable Lions.'
The third pot's lowest ranked team is Australia (59) but England might prefer to play Iran (45).
Switzerland - Cameroon - Iran - England
Worst: England to be drawn into Pot Two at the start and end up in Brazil's group. Add to that USA from Pot Three and Euro 2012 runners-up Italy, and there you have it: a nightmare group.
England have never beaten Brazil in a World Cup match. A solitary draw in 1958, then defeats in 1962, 1970 and the 2002 quarter final.
The United States put England on the back foot at the last World Cup, earning a surprise draw in the opening game and then winning the group, leaving England to face Germany in the last 16.
And Italy...well they knocked England out on penalties in the quarter finals at Euro 2012. Enough said!
Brazil - England - USA - Italy
Wednesday's rehearsal paired England with the holders Spain, South Korea and the Ivory Coast in Group E. A difficult prospect, but one that Hodgson's side would relish. They have never faced the Ivory Coast and that meeting would probably determine who went into the last 16 with Spain.
But it was just a rehearsal. The real thing starts at 4pm on Friday - I can't wait!
Sky Sports will bring you all of the news from the World Cup draw in Brazil live on Friday from 4pm - online, on mobile and on Sky Sports News.